Valentine's Day is here and if you still don't have a gift for your significant other, don't fret as we've drummed up a couple of novel ideas to make your partner feel loved and extra special during this love month. Whether you're willing to empty your bank account or cheap it out (but make it meaningful), here are 6 Fantastic Valentine's Gift for every budget.
Tech for Less – Get the Galaxy S22 Line with up to Php 9600 discount with SMART
Budget Range: Php 46,000 – Php 80,000
For your technophile partner, getting the latest flagship smart device is one of the best gifts you could give. And while we're month away from a new iPhone, and if your partner is an avid android user, the new Samsung flagship phone just officially launched in the Philippines and currently out on pre-orders.
The Samsung Galaxy S22 line is the company's crème dela crème of smartphone devices as the device is fitted with the latest 4nm Qualcomm Snapdragon 8 Gen 1 chipset and host of modest optics that can to the budding photographer in you. For long time Samsung Galaxy S users, the fact that we're not getting the Exynos processors is already a very big deal.
Add to the fact that these new smart devices offers the best in class display (FHD to QHD Dynamic AMOLED Display), S-Pen compatible, Space Zoom Optics (for the S22 Ultra) and a large enough battery with 45Watt fast charging, the Samsung Galaxy S22 line deserves a space in your techy significant other's life.
While the base model has an SRP of Php 45,990, Smart has a pre-order discount happening from now till March 3 which slashes off Php 7200 to Php 9600 (for the Samsung Galaxy S22 Ultra). You'll also get a bunch of freebies like free Silicon Cover and Lucky Box Straps.
And while that still seems a bit of a large sum to shell out, you can actually get the unit through your Smart Retention programs at much cheaper one-time cashouts depending on your monthly plan.

For more info on the Samsung Galaxy S22 Series, check this feature out and book an appointment to reserve your unit.
Premium Dining Experience made for you at Home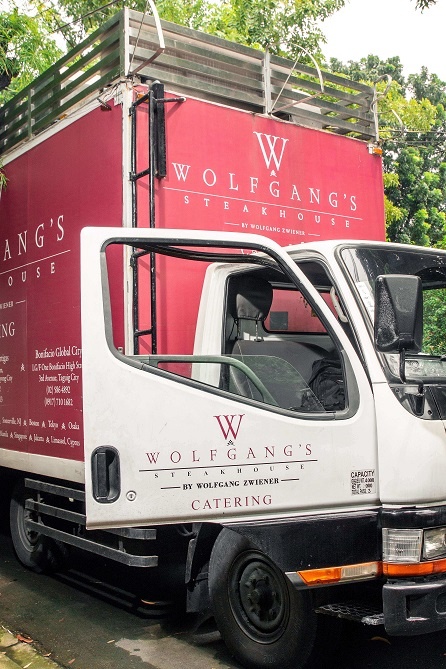 Image credit: Wolfgang Steakhouse
Budget Range: Php 20,000+
If you have the money to spend and really want to go out of your way to create a romantic 5-star-like dining experience at the comfort of your home, you can rent curbside catering services like the one from Wolfgang's Steakhouse.
Their Curbside Delivery basically ensures that your premium steaks will be cooked to perfection as they prepare it in a mobile kitchen parked in front of your place.
Their Valentine's Day Curbside Delivery Menu consists of a host of delectable dishes like Wolfgang's Crabcakes, Salad, Grilled Salmon, Lamb Chops, and 1kg USDA Prime Dry-Aged Porterhouse Steak. It also comes with sides and a bottle of wine or bubbly. This good-for-5 people dinner extravaganza will set you back a whopping Php 20,188 with a Php 1,500 curbside fee. It's costly but it's definitely an experience.

We suggest making the most of the occasion and dress up as if you're eating at a 5-Star Hotel Restaurant (pipe-in some string or jazz music from Spotify or Apple Music as well).

Book a curbside delivery dining experience here.
Or…you can go for a Cheap but Hearty Meal
Budget range: Php 1000 – 10,000
Realistically, though, splurging 20 grand on food may seem a bit too farfetched, so you can spend a tenth of that for a hearty meal by sending your special someone a surprise food app delivery. Some Food App Delivery services offer stackable voucher discounts during these times. So, it's all a matter of being creative and getting the best offer that's within your budget.
To get the best deals, make sure your Food Apps are up to date and check their seasonal discounts. For Grab Food you can mix and match food items from their ONLY GRAB KITCHEN selections — which usually have discounted specials on the food menu items. Then you can stack that discount with an app voucher like the 25% off for Php 500 minimum spend, and you're bound to get a wallop of savings.
As the saying goes, "sulit pero hindi tinipid."
MasterClass Subscription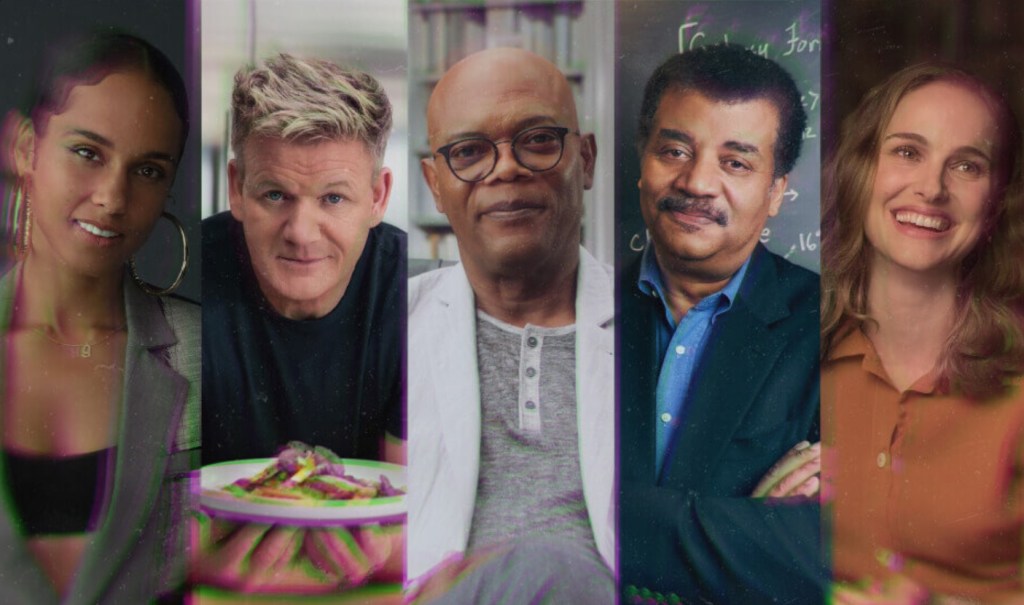 Image credit: Master Class
Budget range: $180 or Php 9,000
If you want to go for something unexpected instead of the usual chocolates or bouquet of roses, why not give your S.O. something that will truly last – the gift of learning.
MasterClass is an online course with over 150 of the world's most influential people and leaders in their fields sharing the ins-and-outs and wealth of their collective experience in bite-sized 15-20 courses. MasterClass is a great way to learn the Art of Diplomacy and Negotiation, World-Class Cooking, Style, Authenticity, Music Production, Music Writing and even Acting with the likes of Ex-President Clinton, his wife Hilary Rodham Clinton, Ex-FBI Negotiator Chris Voss, Gordon Ramsey, Queer Eye's Tan France, Hans Zimmer, deadmau5, Alicia Keys, Natalie Portman, Helen Mirren and a dozen more.
There will surely be something interesting for both yourself and your significant other. Who knows, the course may unlock potential avenues of interest where you could both grow as a couple.
The yearly subscription is a bit pricey at $180 USD but they usually run buy 1 take 1 promos for first time subscripers. In our opinion, spending Php 9,000 is a small sum to pay for unprecedented access to this wealth of information from renowned individuals like these.
Click here to check out MasterClass.
Chocolates for VDay but with an Online Twist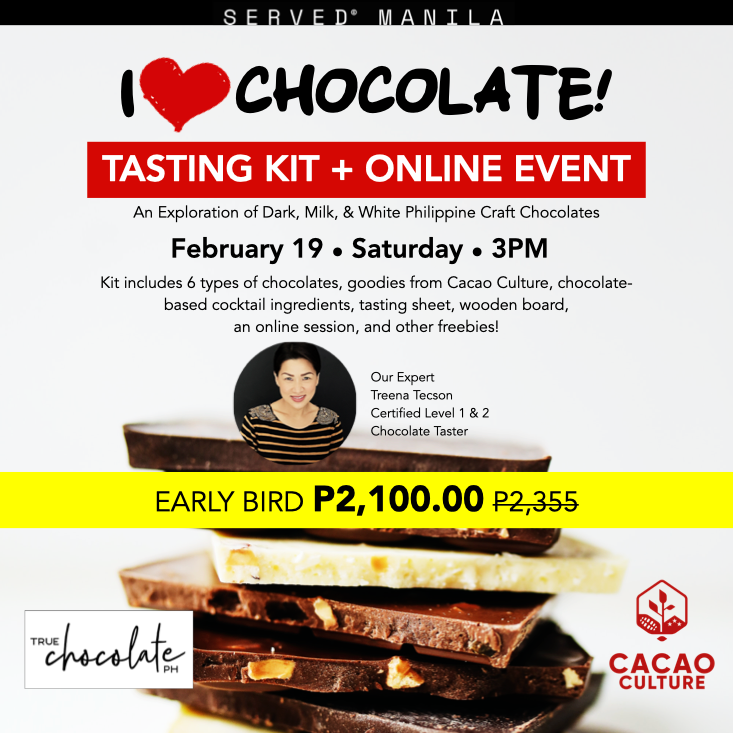 Budget Range: Php 2,100-4,200
Ever since the pandemic started, food and beverage establishments started creating online tasting kits and experience to either mitigate loss or expand their service further. And even if malls and establishments are opening their doors and allowing people to eat inside, attending small online tasting events like these have a more specialized and oddly personal approach than just, say, eating out for Valentine's Day.
There are a couple of online tasting sessions happening around the Metro and for VDay, why not indulge in the most chocolatey adventure of your lives like the one being offered by SERVED Manila on February 19
The I Love Chocolate! Tasting Kit + Online Event comes with 6 types of chocolate goodies from Cacao Culture, choco-based cocktail ingredients, tasting sheet, wooden board, an online session, and a lot of other surprise freebies.
The online sessions cost Php 2,100 per head. You may have to avail of the service soon so you can lock-in your slots.
The tasting event happens over Zoom, Microsoft Teams, or a similar platform and it still feels like you're engaging in a fun session together – albeit just online. A collective online activity like this can give you guys something to talk and bond over later.

Reserve your online tasting session today.
Wind-down and get kilig with Viu and GigaPlay
Budget Range: Php 50-Php 500
After that enlightening session from MasterClass and filling your stomachs on either Wolfgang's Steakhouse or the selections from your favorite food delivery app, you can both wind-down and chillax to your favorite Kdramas in Viu or GigaPlay
Get supernaturally giddy with the Ghost Doctor or take a stroll on the Joseon period (last dynastic period of Korea) with a body-snatching isekai plot from Mr. Queen on Viu. Viu is a streaming platform that specializes in Asian content whether it be Chinese series and movies, Kdramas and even a bit of anime. You can watch the shows for free as well but we highly suggest getting premium so you guys can binge-watch the shows without ads. You can also get Viu Premium for free when you subscribe to Smart's Giga K-Video for as low as Php 50 for 3 days.
Alternatively, you can use GigaPlay to access hit Korean shows on tVN via Smart's GigaPlay App. You can access a wealth of other contents like NBA, PBA games, K-idol shows, exclusive movies like Love is Colorblind and other exclusive Kdrama contents via Smart's Hallyu Hangouts where Smart subs gain inside access to their favorite Korean Stars and Idols.
Get Hyun Bin Pillows & Amazing Premium Gadget Prizes in Smart's Valentine's Day Promo
Whether it's going through styling classes with Queer Eye's Tan France over at MasterClass, enjoying an online tasting event from Served Manila, stacking your Grab App with the most creative mix-and-match food your S.O. has experienced, and binging on Kdramas on Viu and GigaPlay, it's always best to have the power of the fastest-running 5G Network* by your side.
To make your online experience sweeter (and to celebrate the recent #BinJin engagement), Smart is currently running a great VDay deal that could land you a cool Hyun Bin Pillow if you avail of any Smart 5G SIM packages from Feb 8 – Feb 15, 2022. These include Smart/TNT 5G SIM, their respective 5G SIM and Load card bundles, Magic SIM and Smart Bro Rocket SIM 599, 499 and 299.
If your purchase exceeds 500 pesos, you are automatically entered to Smart's Perfect Pair Valentine's Day Raffle Promo where you can win a Smart Bro Pocket Wifi + Smart Bro Rocket SIM, a Huawei Matepad T10 + Smart Bro Home Wifi, or the grand prize of Samsung Galaxy Z Flip3 5G with Smart Bro Pocket Wifi. The Raffle promo ends on Feb 28, 2022.
For more info on these exciting promos that will set your heart a flutter, check out the official postings at Smart's Official Social Page.
*according to Ookla for 2021 Q1-Q2 and Q3-Q4