Every year, the vibrant city of Bacolod in the Philippines transforms into a spectacle of color, music, and unending smiles, thanks to the iconic MassKara Festival. Known far and wide as the "City of Smiles", Bacolod shows how its spirit of resilience, unity, and joy comes alive in this annual celebration, drawing in locals and tourists alike for a unique cultural experience.
This year, the excitement builds up even more as the MassKara Festival 2023 is set to offer an array of events that promises to be grander, brighter, and more exciting than ever. All throughout the festival, Bacolod will be buzzing with events left and right.
Whether you're a returning visitor or a first-time attendee, the festival's lineup has something for everyone. We've handpicked four can't-miss events that encapsulate the heart and soul of the MassKara Festival. That said, buckle up and get ready to dive into a cultural extravaganza like no other!
MassKarade Ball (October 20)
Step into a world of elegance and grace at the MassKarade Ball. This event is a spectacle of high society, as Bacolod's finest come together dressed in their most stunning outfits and intricate masks.
Make no mistake though; this isn't just about the glitz and glamor. The MassKarade Ball also serves as a charity event. As such, every dance and every laugh shared contribute to local charities, making the MassKarade Ball a celebration of generosity and community spirit.
Join a Private Event or Party at Local Restaurants and Bars (Various Dates)
After an entire day of enjoying the festivities throughout Bacolod, you may want to check out several private events and parties held at local restaurants and bars. One of our top picks is Quedan Masskara 2023 at Paseo Verde. The restaurant, best known for exceptional Spanish comfort food and wines, has partnered with Smart to offer one of the best private events during the festival.
Guests visiting for MassKara can reserve a table at the restaurant at a fully consumable cost for drinks. The party will also feature several local DJs like JAV/, BADK!SS, MROWWW, COSCO.WAV, NOMOCLASSIQ, and MELBAX. Interested party-goers may book their reservations through the Quedan Facebook page.
Other events to check out include the Massqueeradya at Lunar Art + Café + Bar (October 19 to 22), MassKara Island Raid at L' Fisher Chalet (October 20-21), Homegrown x Logic Club (October 21), and Portiko (October 18 to 22). The best part about these Smart-sponsored parties? Smart subscribers get to enjoy Fast Lane status, skip the lines, and enjoy a free drink just by showing the Smart App!
MassKara Electrika Diva and Electric Float Parade (October 21)
Prepare to be dazzled by the MassKara Electrika Diva and Electric Float Parade. As night falls, Bacolod's streets transform into a luminous wonderland, with LED-illuminated floats handmade by participating barangays lighting up the city. The highlight of the night is the Electrika Diva contest, where local talents give electrifying performances that will leave you in awe.
In the words of Mate Espina, Head of Public Relations for the Bacolod Yuhum Foundation, "This year, we will be bringing back the early days of the Electric MassKara, ala Rio de Janeiro, where we have electric divas dancing on top of the electric floats".
MassKara Street Dance Competition (October 22)
The grand finale of the MassKara Festival is the Street Dance Competition, a vibrant display of Bacolod's spirit. Watch as local groups take to the streets their synchronized dance moves, vibrant costumes, and infectious energy—a true embodiment of Bacolod's resilience, joy, and welcoming nature.
This is more than just a dance-off. It's a celebration of community, culture, and the city's unwavering spirit of happiness. Don't miss the chance to join in the dance and share in the joy of this unforgettable event.
Capture Every Moment at Smart Booths
Stay connected throughout your MassKara Festival adventure in Bacolod with Smart's PowerAll99. Available for only P99 for 7 days, the promo is a perfect match for your festival journey. It offers 8GB of data for any app you need during your trip. Whether you're uploading colorful photos, checking festival schedules, or sharing real-time updates, you can do it all seamlessly with this data pack. The promo also comes with Unli TikTok, so you can capture and share dynamic videos of the Street Dance Competition and other events throughout MassKara.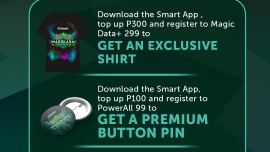 If you're already in Bacolod, but haven't registered for a promo yet, make sure you hit up one of the many Smart booths located throughout the city. This way, you can claim some awesome freebies like shirts, pins, and Php 100 vouchers for participating partner establishments like But First, Coffee, Bar 21 Restaurant, and more. All you need to do is download the Smart App, top up your account, and register for PowerAll99 or Magic Data+ 299.
There you have it—a lineup of events that promise to make your MassKara Festival 2023 an unforgettable journey of culture, joy, and shared smiles. See you in Bacolod!