Following its launch in July, the Smart Prepaid eSIM is now even easier to purchase through email delivery. Costing only PHP 99, it comes complete with up to 21 GB of data as well as free calls and texts to all networks so you can start using it upon activation and registration.
Here's how you can have your Smart Prepaid eSIM delivered straight to your email:
Go to the eSIM product at the Smart Online Store.
Add to cart to check out and pay.
Input your email address and mobile number. An OTP code will be sent to your email for verification.
Choose a payment option and enter your email and mobile number. Make sure to verify the email where your eSIM will be sent.
Proceed to payment and wait for your order to be confirmed.
Receive your eSIM via email instantly!
If you prefer to receive a printed version of your eSIM's QR code, you may still purchase one through Smart Stores nationwide, Smart booths in international and local airports, or from Smart Flagship Stores on Lazada and Shopee.
How to activate your Smart Prepaid eSIM
Once you receive your Smart Prepaid eSIM, here's how you can activate it:
Android
Scan or upload a screenshot of the QR code and click "Mobile Plan".
Click Phone to download the mobile plan.
Wait for the notification that your Smart eSIM has been activated.
iOS
Scan the QR code (use another device if sent via email) and click "Mobile Plan".
Click "Continue" to allow eSIM activation.
Click "Continue" to activate the eSIM.
Click "Done".
Once you receive your eSIM QR code—whether through email or the printed version—make sure to keep a copy of it. You'll need the QR code to reinstall the eSIM on the same device or transfer it to another device, such as when you purchase a new smartphone.
Why use an eSIM?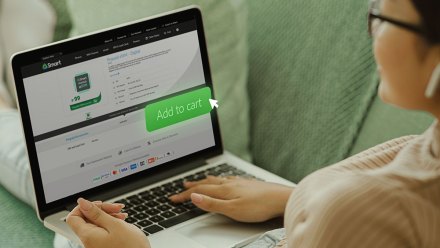 An eSIM or embedded SIM uses a pre-installed chip that works the same way as a physical SIM card. With an eSIM, however, you don't have to physically purchase, install, or replace your phone's SIM card. You can purchase an eSIM, download its information, and activate it all from just the palm of your hand.
If you're someone who swaps out SIM cards often, then you know just how much physical SIM cards can suffer from wear and tear. You may even end up requesting a replacement SIM when yours becomes unreadable or unusable. With eSIMs, though, you simply have to switch profiles through your phone's settings. You also have the option of adding a new Smart account to your phone even if it's issued by another telco provider.
Many of the smartphones in use today are already compatible with eSIMs, including models that are a few years old like the Apple iPhone 11 or Samsung Galaxy S20 series. To check if your phone supports eSIMs, you may refer to Smart's list of eSIM-capable handsets or your device manufacturer's website.
You may also access your phone's settings and check if there's an option to add an eSIM. Some devices accept up to 10 eSIMs, with up to two SIM profiles active at the same time in these configurations: two eSIM profiles, one eSIM and one physical SIM, or two physical SIM cards.
Using a Smart Prepaid eSIM also affords you the same benefits as using a physical SIM, including access to promos that come with data, calls, and text. Get your digital eSIM today to start enjoying the many amazing perks of being a Smart subscriber! If you're an existing subscriber, stay tuned as well for updates on how you can upgrade your physical SIM to an eSIM.