Have you ever been stuck in traffic wishing you could see or do something that could relieve your stress? Suddenly, a vibrant and colorful mural pops out of nowhere. These little pockets of beauty that break the monotony of the concrete jungle can bring a smile to your face.
Art, specifically wall murals, are known to have that kind of effect on people. Perhaps it's because of their overwhelming presence on a building's wall, the message that they convey, or simply the beauty that it adds to a somewhat dreary place.
But now we are stuck at home because of the pandemic and we rarely see those murals anymore. You might also wonder where the muralists have gone now that they are mostly confined to their homes.
If you are curious as to how they continue to hone their craft, here are some muralists that you can follow on Instagram to see what they are up to nowadays.
Hopefully after the lockdown, we can all look for them and take photos with their awesome artwork once again.
Lee Salvador
One of the most well known street artists in the country, Lee Salvador also creates toys and is currently working on smaller art pieces since the pandemic has hindered him from going out on the streets.
Gerilya
Gerilya is a group of artists who create artwork that have Philippine historical inspirations in the streets of Metro Manila and different local government units (LGUs) in the country.
Trip63
A self-taught and internationally known graffiti artist and toy maker, Trip63 continues to work on different projects that continue to awe and inspire. He uses large urban landscapes as his canvas and continues to promote the subculture of graffiti in the country.
Kris Abrigo
Known for his colorful murals, Kris Abrigo's work can be seen in different parts of the country. Using bright and pastel colors, his artwork aims to foster an inviting environment that can spark people's curiosity about art.
Just like these muralists, Smart Communications also believes that aside from enriching a community, art can also send a message to help promote its goals and aspirations.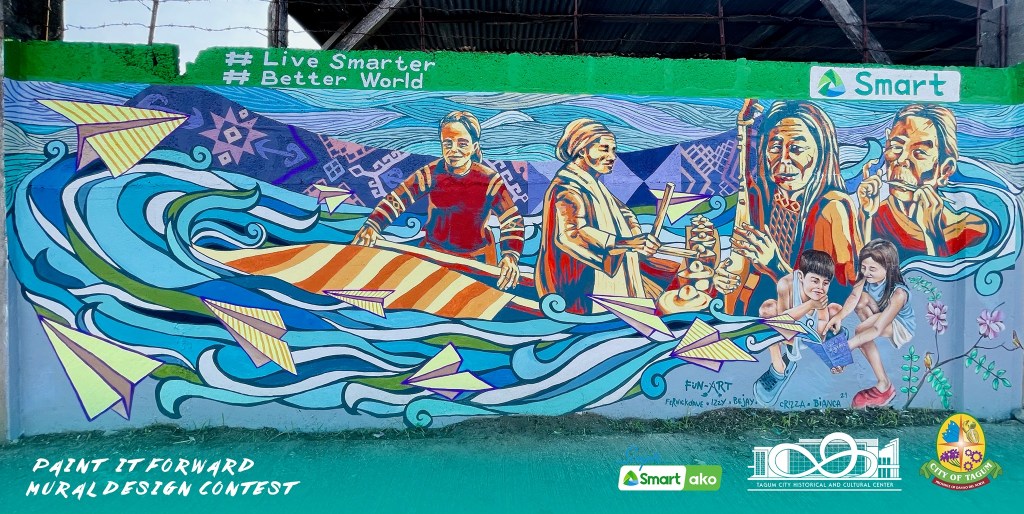 That is why Smart Communications launched Paint It Forward: A Wall Mural Contest where 100 participants from Cebu and Davao created murals that encourage sustainable living in their communities.
With hundreds of captivating and inspiring entries, the initiative will surely inspire young artists to become the next generation of muralists who will Live Smarter for a #BetterWorld.