ToyCon PH 2022 is still raging on after a highly successful first day. With approximately 5000 attendees storming in on all 250 booths during day 1, we're taking note of some of our favorite finds so that you can make a beeline towards them if you're attending the con for the next few days.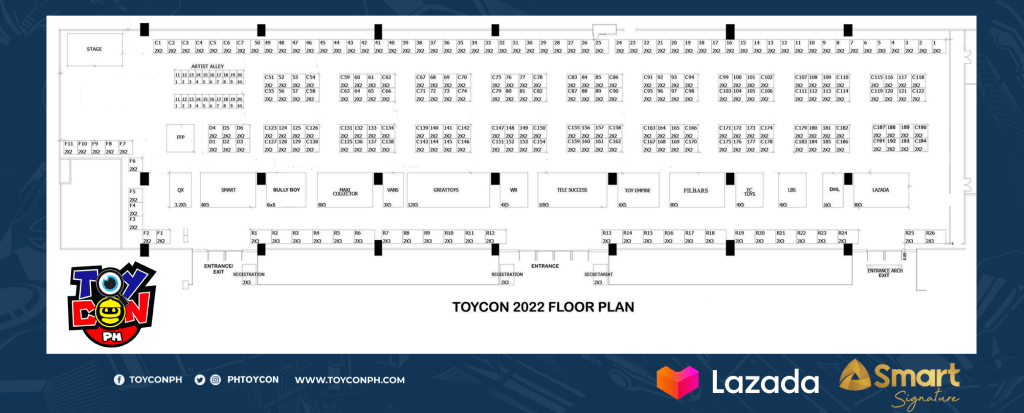 For easy reference, here's the floorplan of ToyCon at the SM Memgatrade Hall happening at July 8 – 10, 2022.
Remember that ToyCon 2022 opens at 10am, so if you're gunning for exclusives, best to be at the venue even earlier and expect long lines.
Collective Base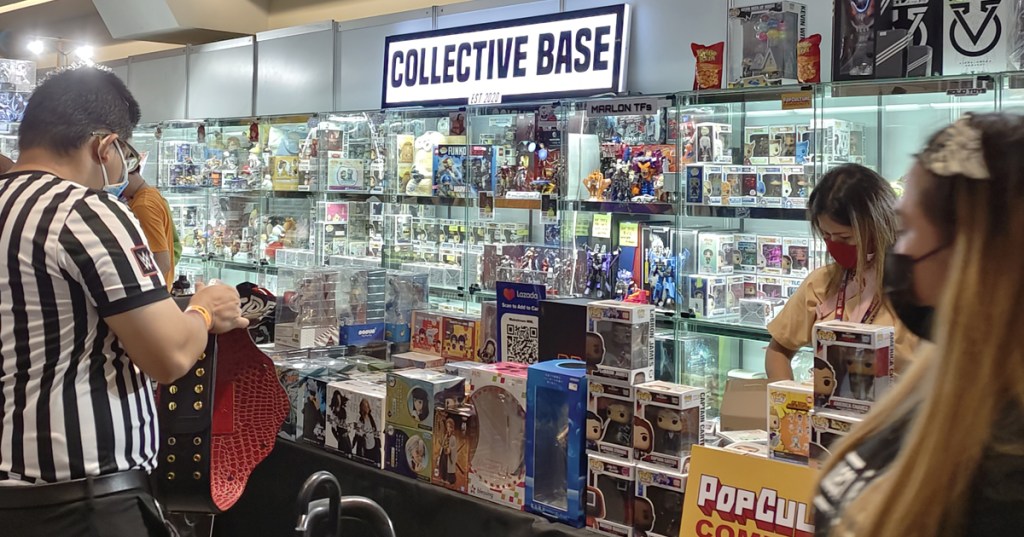 Let's start off with the Collective Base at R19, R20, and R21. As mentioned in our previous article, Collective Base is a popular consignment store at Greenhills Shopping Center.

But aside from the usual Funko Pops and mainstream collectibles, they're also haven for budding Toy designers and creators.
FOXY: RELOADED ECLIPSE EDITION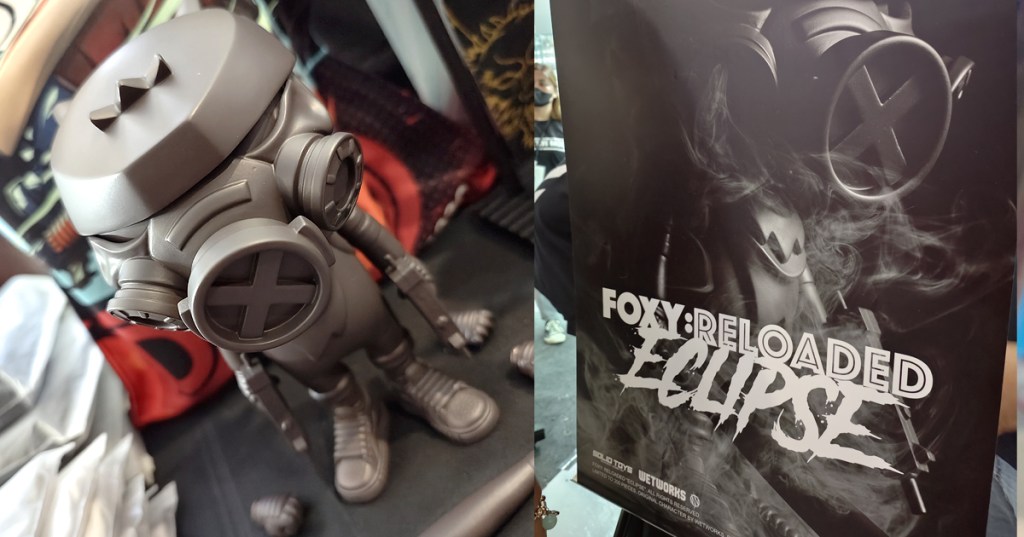 Solid Toys, the guys carrying Carlo Cacho aka Wetworks' creation. For ToyCon 2022, they're opening very limited pre-order slots of Foxy: Reloaded Eclipse Edition – an all-black 8" vinyl figure with 4 interchangeable hands, mask and accessories.
Limited to only 200 pcs worldwide, 100 pcs are allocated to ToyCon 2022 and this will set you back Php 8,250.
It's highly coveted piece so best to come in ToyCon early and try your luck.
If that's a bit out of your price-range, and if you want to support smaller, but equally talented, Pinoy artist, the booth holds several notable works. Our eyes went for a beeline to two amazing toys.
NAKAGucciSHA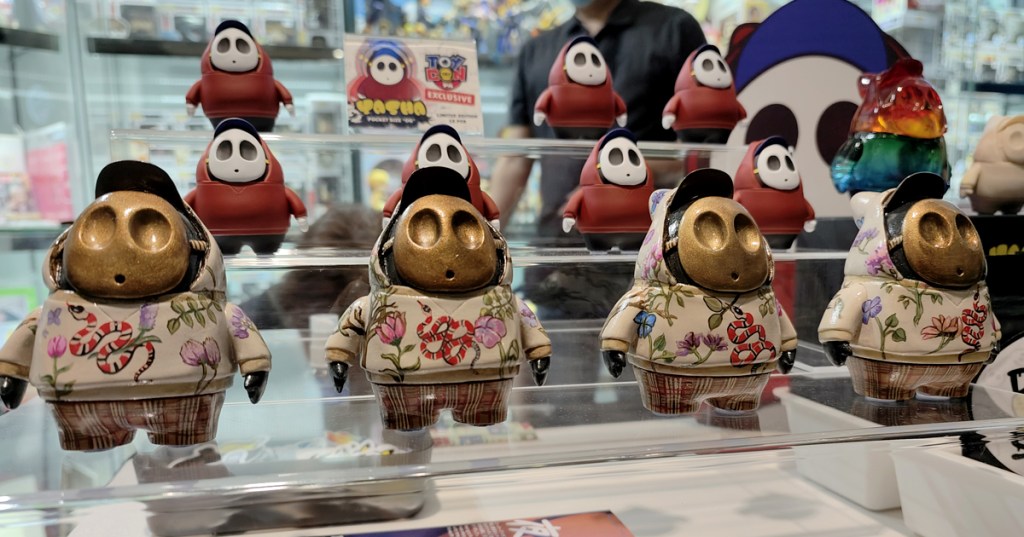 The first is a collaborative work from EJ Sulit and Steffi (Lianne Steffi Lim) entitled NAKAGucciSHA.
It's a very colorful rendition of EJ's Yasha work. Unfortunately, these are already pre-allocated prior to ToyCon opening.
He does still have the OG Shy Guy Yasha in 3" format, though. They're pretty cute as it is.
The next item is a devilishly scrumptious cookie – no, really.
SKELE-O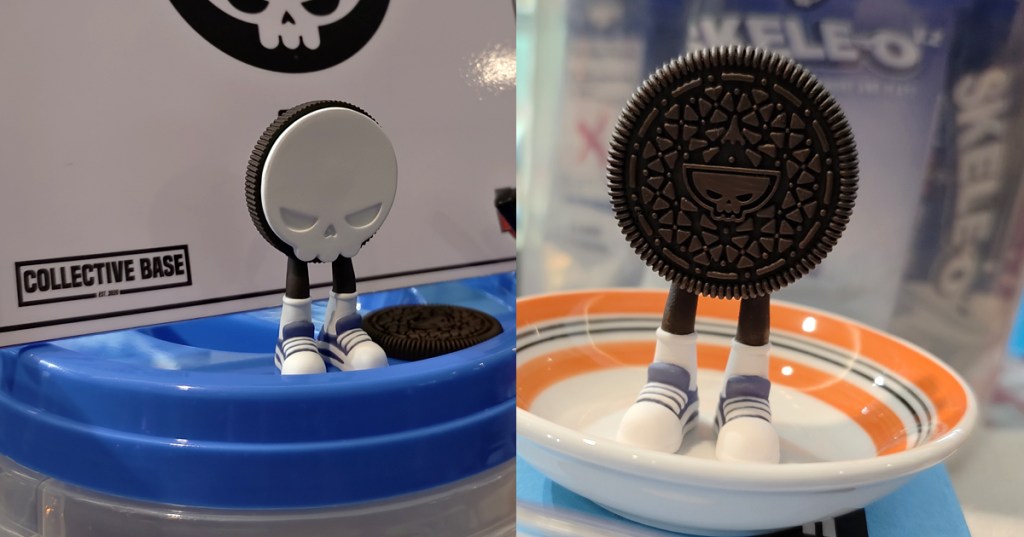 Presenting eF Toy's Skele-O (take on the Oreo cookie). This wee resin art toy has a magnetic cream base so you can stick the chocolate cookie piece of if you want to.
Costing only Php 1,400 the figure comes with a fun "foil" pack and the artist threw in a Good Morning Towel if you order.
Creator's Alley
Just behind the Artist Alley, the Creator's Ally also houses a bunch of local budding toy designers that have really excellent work. These two caught our fancy.
DTC Studio's The Warden: Pinas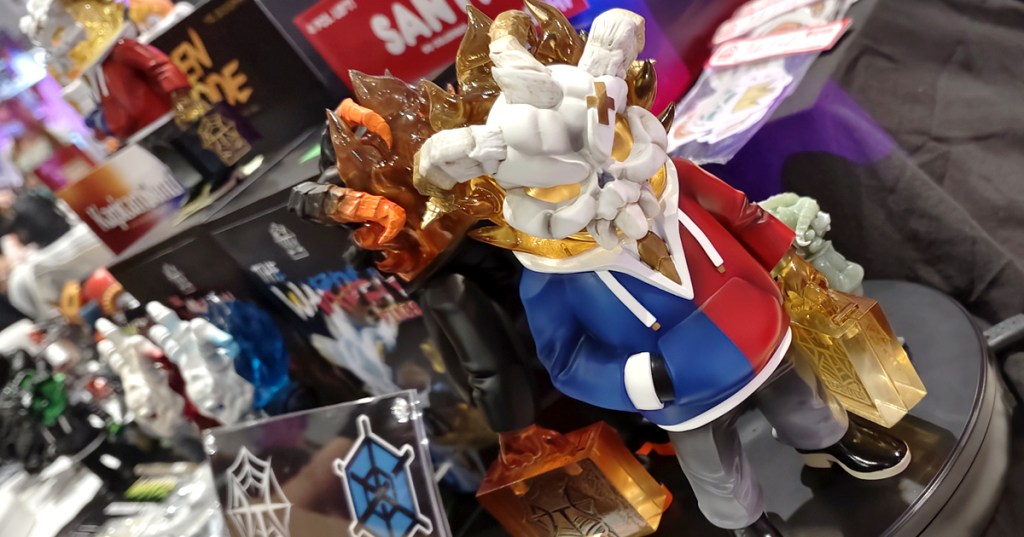 Fresh from his Hellish torment from UnboxCon, artist Joshua Adrian Aristoza's the Warden is donning the Philippine Flag color motif for Toycon 2022.
Aptly dubbed The Warden: Pinas, this 6" resin looks even better in person.
Ginansilyo ni Marya Handmade by Kath – Lechonk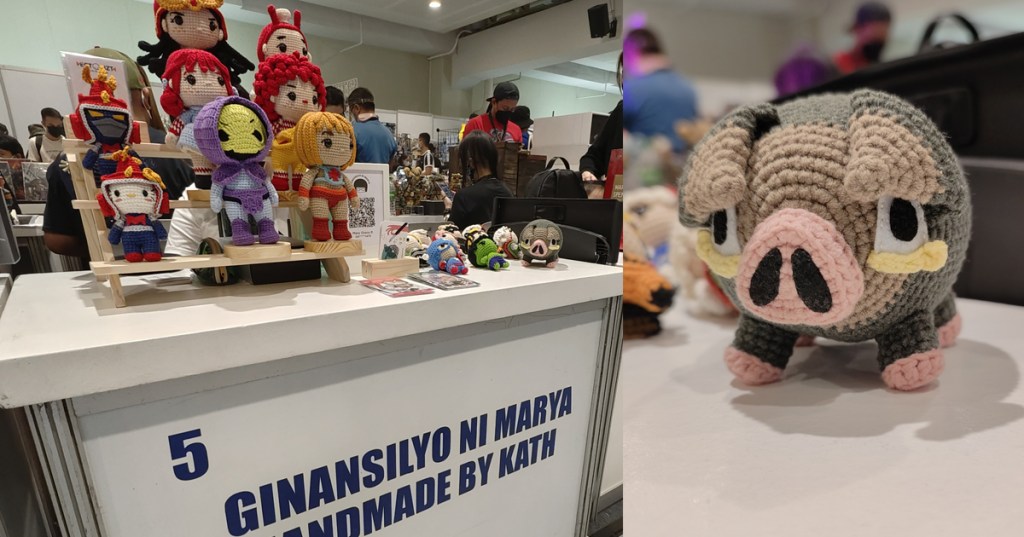 For those that want a softer side to their art toys, look no further than at Ginansilyo ni Marya.
These crochet beauties are intricately crafted, and while there are several other designs in display, we just have to give to spotlight to a certain pork Pokemon that gained Pinoy viral notoriety – Lechonk!
This cuteness overload pork figure cost only P850. What's not to like?!
The Corner Toys PH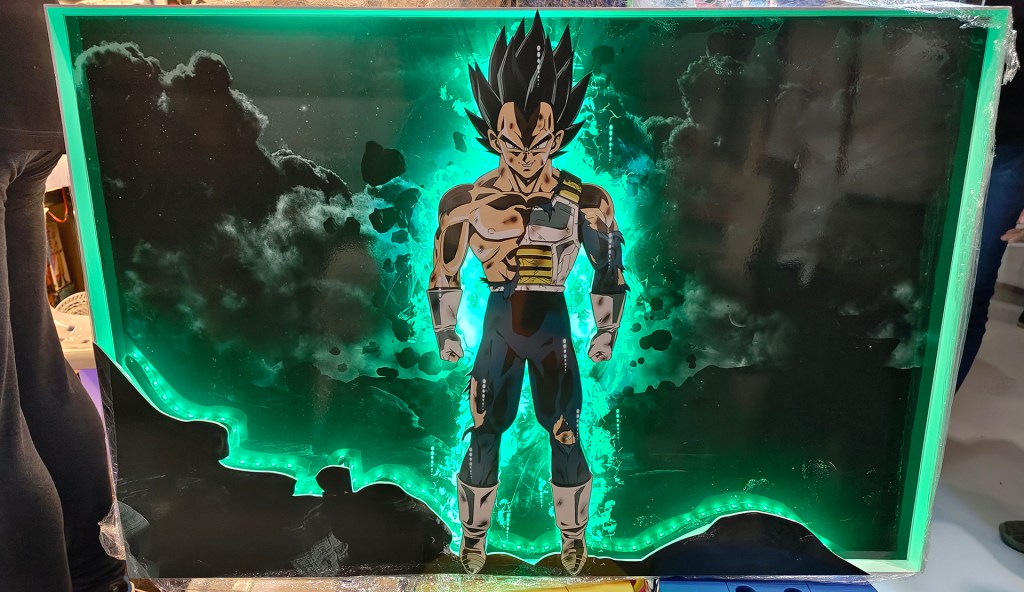 Situated at booth 107 all the way towards the back, the Corner Toys PH can be easily missed if not for these large LED-lighted 3D posters of everyone's favorite Prince of All Sayan, Vegeta.
High definition print on Cintra and fitted with large LED light strips, this 3D poster is something you'd want to put up in your own geek den at home especially if you're a DBZ fan.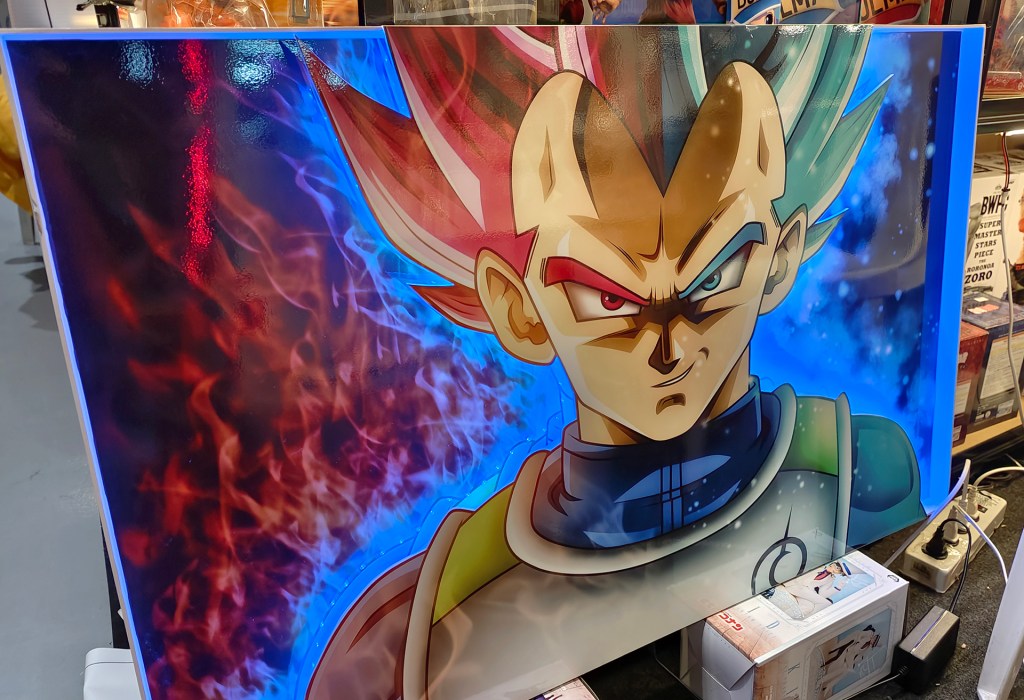 We spoke with the proprietor for a bit, and they are open to customizing the posters for you, but it will take about 30 days to produce the material.
However, if you want to take home something from the event, you'll have to contend with these two Vegeta designs. The posters will set you back about Php 3000-3500.
Long Live Play PH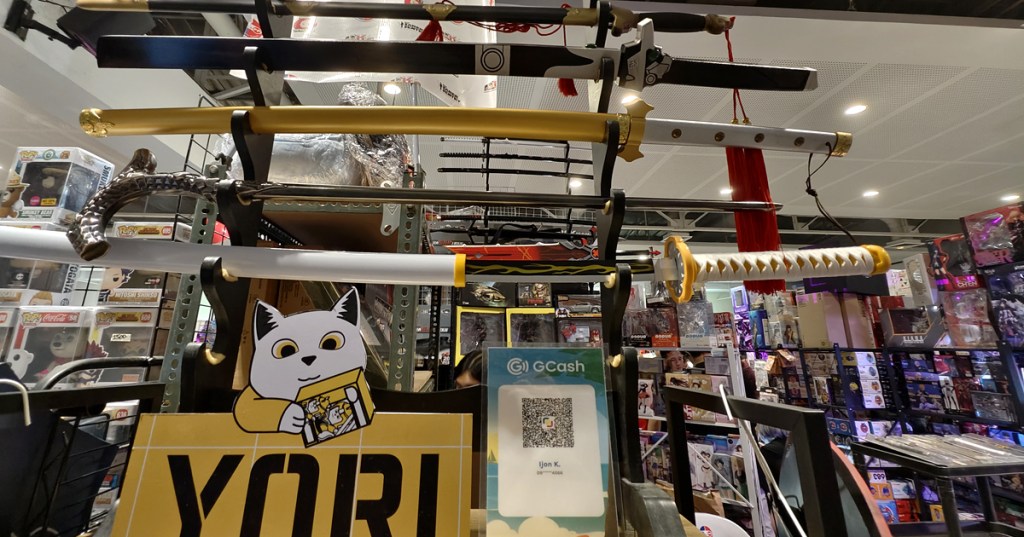 As 250 booths selling Funko Pops, action figures and resin collectibles, stumbling upon a booth with creates full of wooden replica swords is a breath of fresh air.
Situated at Booth 125, 128 and 129, Long Live Play PH (LLP PH) partnered with the Saber Sentry, Otaku Hobby Toys and Saiki's Toyland to offer a wide range of geeky knick-knacks for everybody.
LLP, however, specializes in foam and wooden replica toys and accessories. From traditional-looking Samurai swords to anime-inspired weapons, you'll find all that in here.
What caught our attention amongst the horde of foam and woody weapons are Demon Slayer Zenitsu's Nichirin Sword complete with white and yellow sheath, and Devil May Cry V's cane.
The cane is full steel – and it's a bit heavy.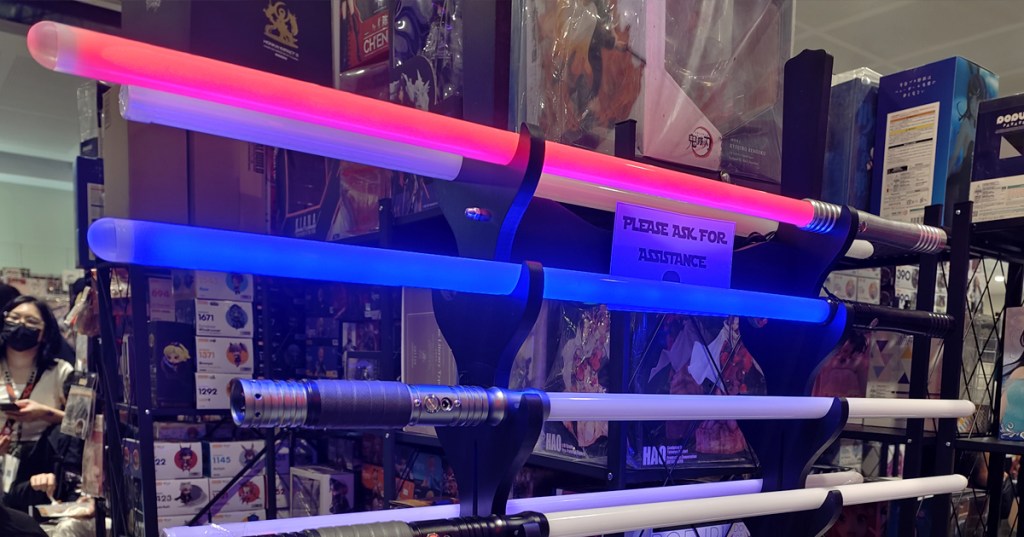 If the items are too anime for you, you may want to shift to items that can be found on a galaxy far, far away.
Saber Sentry offers various Fight Sabers – Light saber replicas you can use for choreographed movements complete with your style of hilt to the type of blade.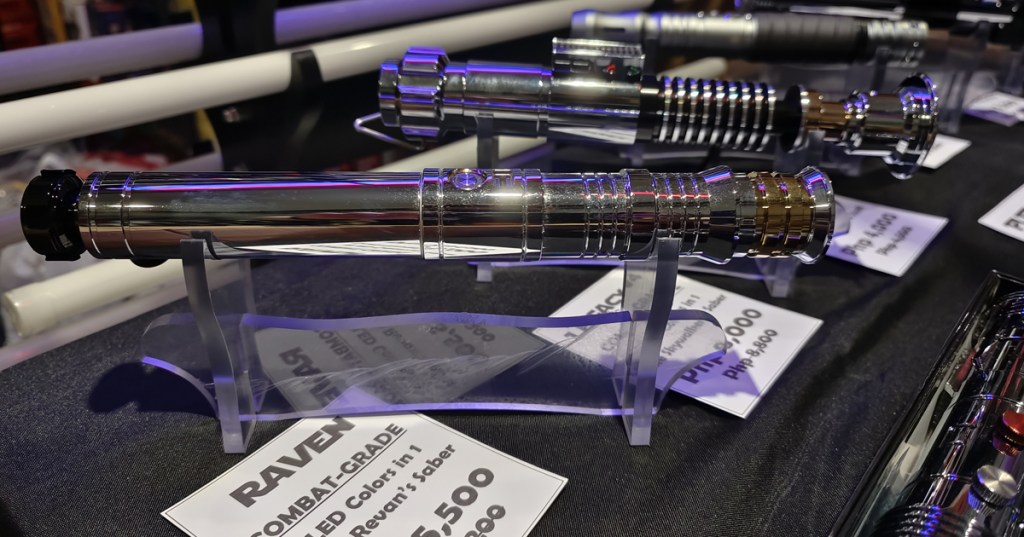 Saber Sentry currently has a 10% discount running across all their wares during ToyCon.
T-Tees – Spy x Family Shirt and Other Anime-inspired Tees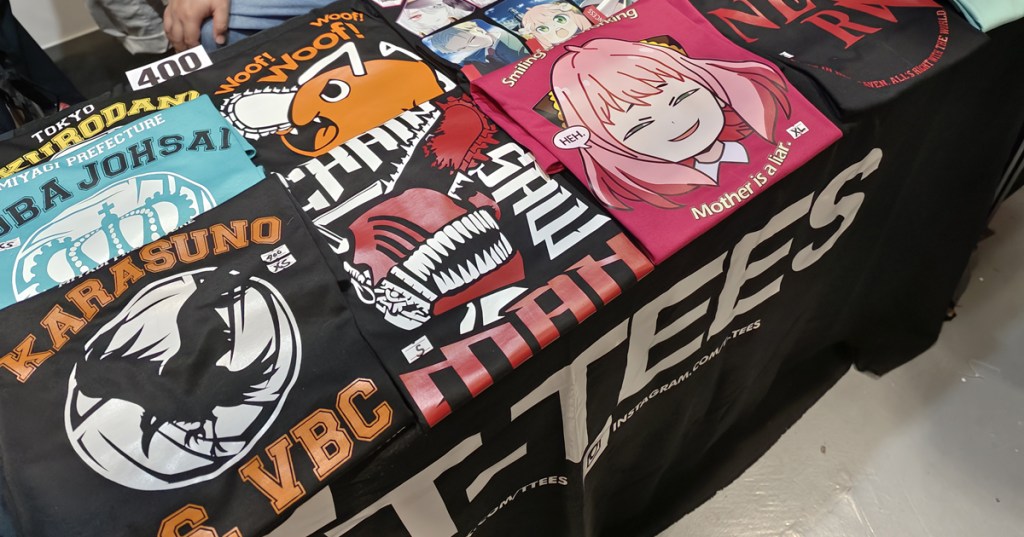 Moving a bit away from toys and collectibles, sometimes it's great to wear one's fandom on their sleeves – literally.
T-Tees is the place to get your quirky and often hilarious take on popular anime moments and/or signature logo designs.
Take Anya of Spy x Family as an example, as well as her classic smirk and heh caption.
The shirts start at Php 250 and go all the way up to Php 400, depending on the design and size of the shirt. Check them out at booth 71.
Berlin Manalaysay's Combatron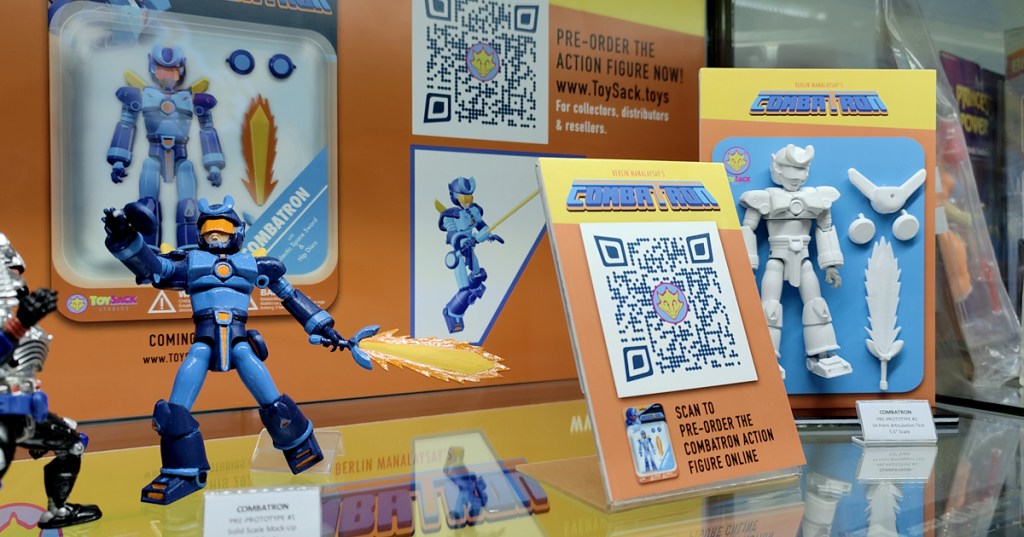 Take a wild trip back to the 90's in Funny Komik's favorite robot kid, Combatron.
Toy Sack Studios is bringing Berlin Manalaysay's creation to life with this pre-order event.
The actual toy won't be available until some time 2023.
The Combatron action figure won't be a resin toy like that of past releases but instead, be an actual plastic injection molded toy – complete with articulations.
What they have on display is just the working prototype.
Still, at Php 1750 retail price and with a downpayment of just Php 350, it's a great way to support historical Filipino pop culture and the artist himself.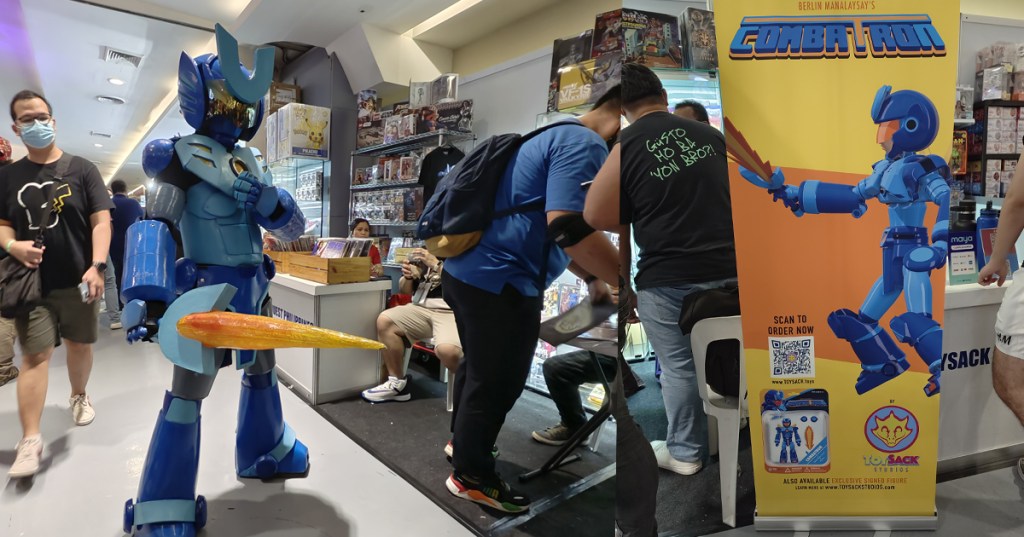 Situated at R17 at Hall 2, the booth also has a couple of 90's action figure that will definitely bring the nostalgia back.
Classic Teenage Mutant Ninja Turtle action figures? Check. Silver Hawks? Check! VISIONARIES?! CHECK CHECK CHECK!
Do check them out if you want a trip down memory lane (and recall instances when your mother threw your old toys away, not knowing they'll appreciate in value decades later).  
Voltes V Booth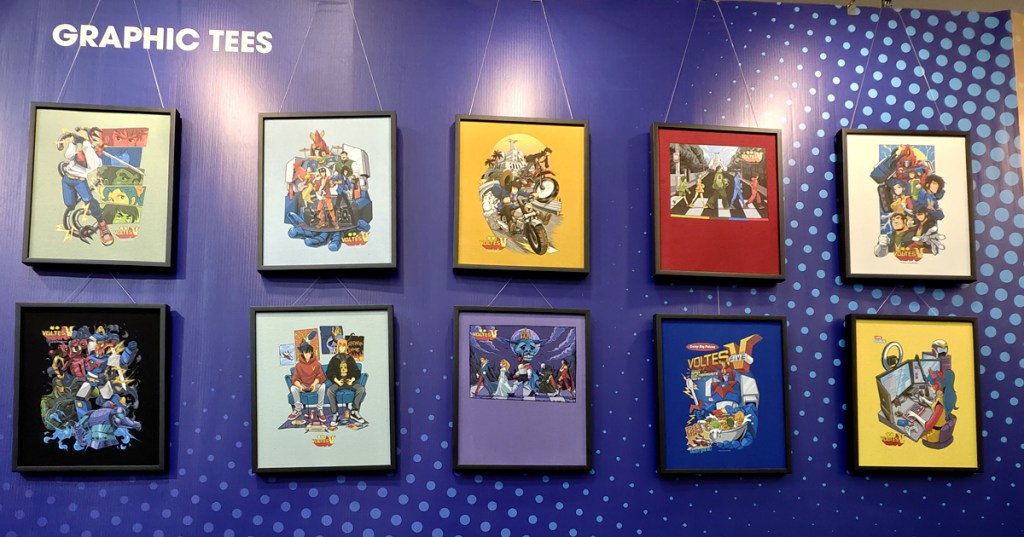 And speaking of Nostalgia, the entire ToyCon Ph 2022 is dedicated to probably one of the most iconic Japanese anime robot that definitely defined a generation: Voltes V.
The Voltes V Booth offers a lot of interesting finds ranging from Voltes V Posters, T-Shirts to a superbly hyped Art Toy.
A highlight of the convention, the Telesuccess's Voltes V: Street Wear Series is, as the kids say, straight fire.
But, it could also burn a hole through your wallet as the figure will set you back by Php 10,000.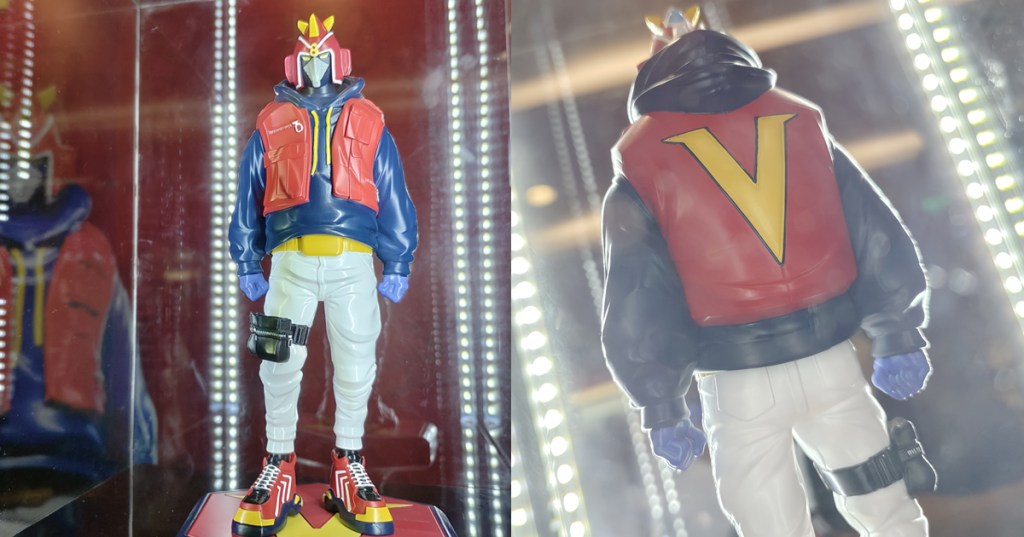 As with items of this nature, the figure is extremely limited so best to make a beeline for this once convention doors open. Don't worry, you can't miss the booth as it's literally the first thing you'll see once you enter Hall 2.
Quiccs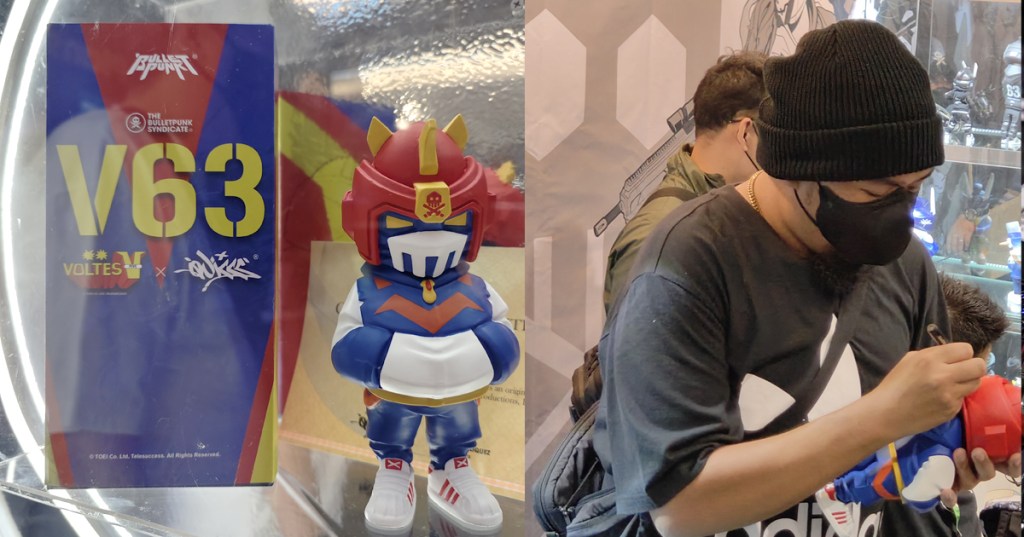 Lastly, we cannot end this feature without mentioning what probably caused the most commotion during day 1 – the Voltes V X Quiccs collaboration, the V63.
Standing in at 14", 7" and 3.5" MicroTEQ, this is the most sought-after figure of the entire convention hall with lines still being formed at 6PM on day 1 of ToyCon PH 2022.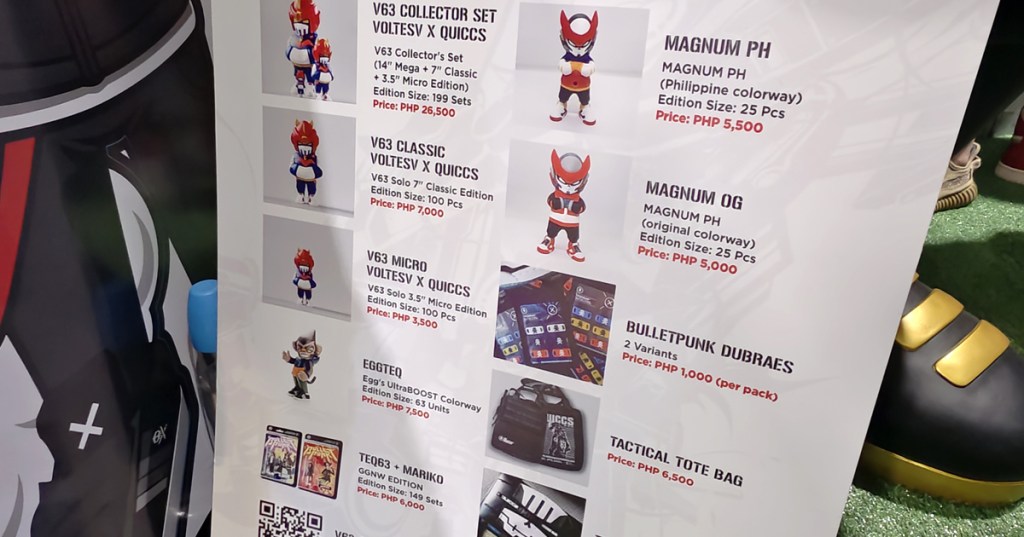 Daily allocations of the 7" or the Php 26,500 Collector's Set (including all 3 sizes of V63) will be raffled off daily from Day 2 onwards.
If you can't manage to get your hands on these, Quicc's booth are also selling very limited figures of EGGTEQ, GGNW Edition of TEQ63 + MARIKO, MAGNUM OG and PILIPINAS colorway, and a couple of Bulletpunk Accessories.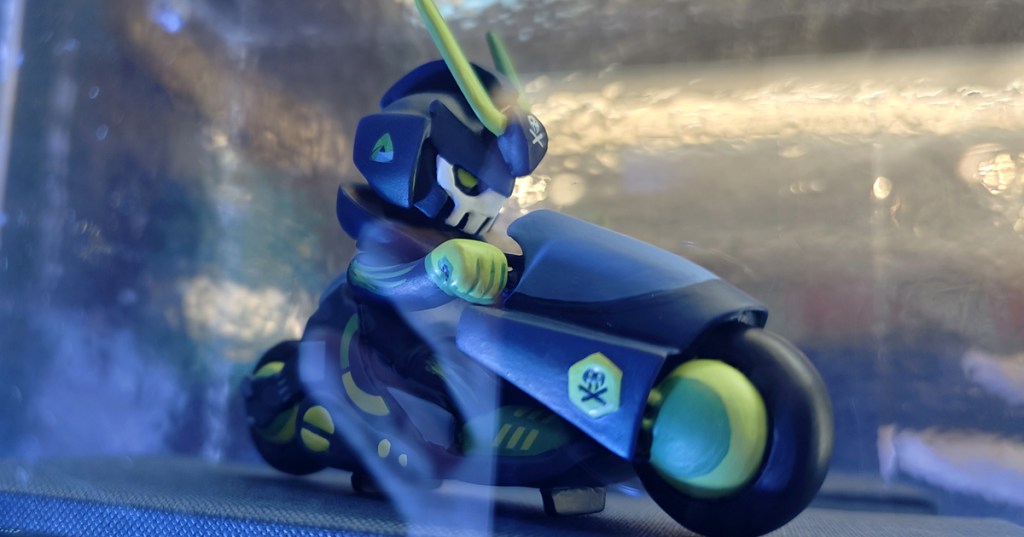 Another way to get your hands on the 7" VolTEQ V63 is by joining Smart's raffle draw for either that or a very limited Php 13,000-worth Shotaro MicroTEQ5G.
It's a special collaboration between Quiccs Maiquez and Smart Signature.
To be able to join the draw, simply apply for a new Smart Signature line or recontract your old number to an eligible Smart Signature Plan.
The draw for the winners happens on Sunday. Read all about the Smart Signature promos in Toycon 2022 here.
These are, of course, a few of the thousands of possible toys and collectibles that could catch your attention.
To fully enjoy the convention, don't forget to check our Must-See Booth Guide for ToyCon 2022.