With everything that's been happening around us, both in our personal lives and across the globe, it's oftentimes challenging to stay focused on our daily tasks.
Since the year end is fast approaching, there's also the mounting pressure to close off all our remaining obligations and to prepare for the holidays.
There are several apps in the market that could help us stay productive in spite of our current circumstances by helping us stay organized, focused, and efficient.
We've listed the best apps that could help you stay on track.
Trello/Asana
Purpose: For task and project management
Cost: Free
Available on: iOS (Trello/Asana), Android (Trello/Asana), and Desktop (Trello/Asana)
Organizing work tasks can be daunting and overwhelming at times, especially for those who juggle multiple roles or projects.
Trello and Asana are both popular task and project management apps that help individuals or teams stay organized.
While both apps serve the same core purpose, they each approach it differently and have their own strengths & weaknesses.
Trello utilizes a Kanban card-style interface that makes organizing tasks into a cleaner workflow more visual while Asana features a more conventional list interface but offers more features targeted at larger teams and projects.
Regardless, both are able to help users organize and keep track of their and/or their team's tasks.
Toggl
Purpose: For time tracking
Cost: Free
Available on: iOS, Android, and Desktop
Even when we're able to properly organize our tasks, there are people that struggle with completing them in a timely manner.
That's where an app like Toggl can help.
It lets users monitor the time it takes them to complete different tasks, with the purpose of giving users better insight into how they spend their time.
With the data Toggl provides, users can then find ways to finish tasks faster or more efficiently.
They can also plan their schedule based on their Toggl results so that they can organize which tasks to tackle first based on the time it takes to complete them.
It even has a Pomodoro mode for those that utilize that system.
It's a simple yet nifty tool that can really help users make their days more productive.
Apple/Google Calendar
Purpose: For scheduling
Cost: Free
Available on: iOS (Google Calendar), Android (Google Calendar), and Desktop (Apple Calendar/Google Calendar)
Google and Apple's respective calendar apps are some of the most basic but useful apps that can help users stay organized.
Each app comes standard on their respective platforms, Android and iOS, and can also be accessed through web browsers on desktops or laptops.
Both are also easy and straightforward to use, with simple interfaces that can be quickly understood.
They can help users schedule and get reminded of upcoming events.
Whether it's an important meeting, a holiday, a birthday, or some other event, both Google and Apple Calendar can help users remember each and every one of them.
Users can even share the events or calendars they've created with their families, friends, or co-workers to help everyone stay organized.
Due
Purpose: For reminders
Cost: Free
While Google Calendar or similar calendar apps are a great way to keep track of important events such as meetings, holidays, and the like across several weeks and months, there are apps like Due that help users get reminded of specific deadlines.
Due lets users set up reminders and customize when they or how often they get notifications about each item.
The app will then continue to send users notifications, which the user can either snooze or change the due date of, until the reminder is marked as completed.
Whether it's used alone or in complement with other apps, Due is a great way to keep users reminded of current and upcoming tasks and deadlines.
Forest
Purpose: For avoiding distractions
Cost: Free (Android), PHP 99 (iOS)
Available on: iOS, Android, and Desktop (Chrome Extension)
Lastly, for those that easily get distracted by their smartphones, there's the Forest app.
The premise of the app is pretty simple, users can activate it, plant a seed, and set a timer.
If the user leaves their smartphone alone, then the tree will grow.
However, if the user disturbs the app before the set task is complete, then the tree dies.
Users are also rewarded with more plant species and they can eventually grow an entire forest.
Additionally, the creators of the app have partnered with Trees of the Future to plant actual trees on behalf of the app's users whenever the latter uses their rewarded coins for it.
Forest is a great way to not only help users stay focused by gamifying the process but to also make a difference in the world.
There's also the Smart GigaLife app that has exciting data promos. Avail of the data allocation you need to download these apps and back up your files.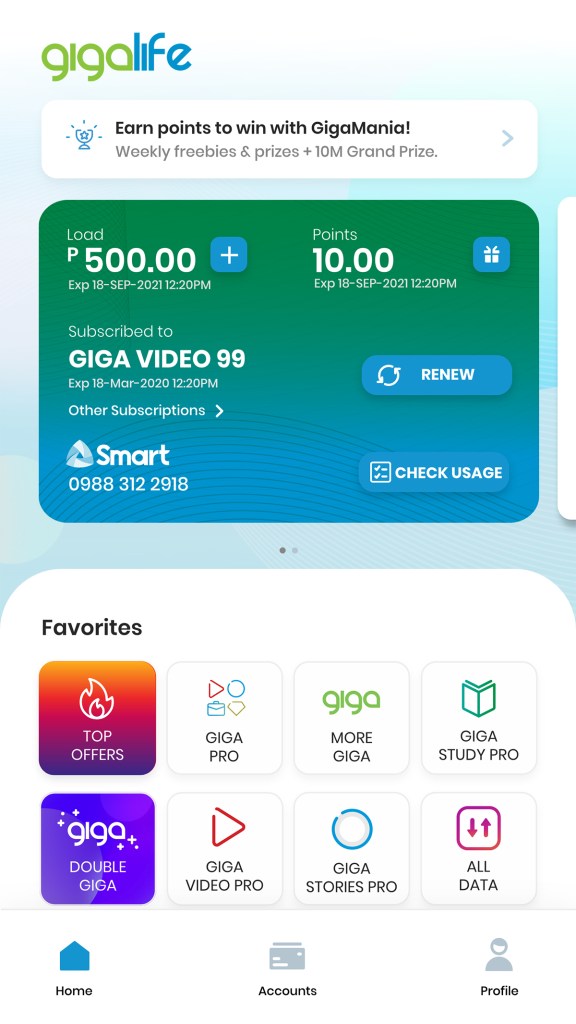 At the end of the day, it's all about finding the right set of apps that will be the most beneficial for you.
In the same way, you can find the right smartphone as well as the best Smart postpaid plan or Smart prepaid promo to fit your needs.
Anyone from any network can now gain access to all of Smart's offers and the fastest 5G network thanks to the new Mobile Network Portability Act. Here's our guide on how you can easily #MakeTheSmartMove.