Samsung unveiled its new Samsung Galaxy Z Fold4 at its recent Unpacked event.
The next generation of the company's foldable smartphone introduces several new and upgraded features to maximize productivity for your work and life.
Maximized Display for an Unrivaled Viewing Experience
The new Galaxy Z Fold4 now comes with larger displays, thanks partly to its minimized bezels and hinge, giving you an expanded viewing experience that allows you to see more content at once.
The cover screen of the Galaxy Z Fold4 now measures 6.2 inches, while the folding main screen is 7.6 inches.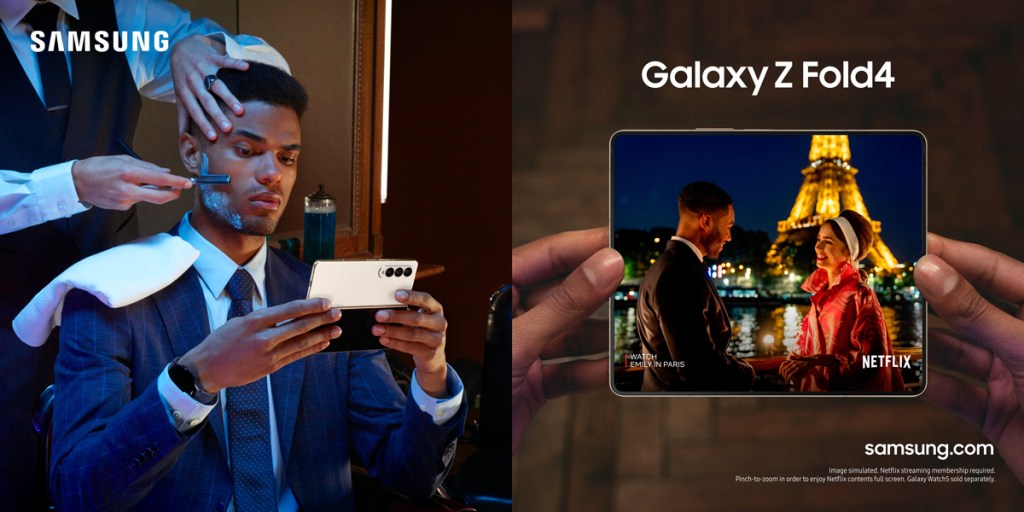 The larger main display of the Galaxy Z Fold4 can provide a more optimized viewing area with its Flex Mode feature, which also now features new touchpad controls.
Furthermore, both screens utilize Samsung's Dynamic AMOLED 2X display panels for maximum color, brightness, and HDR performance.
Maximized Durability for On-the-Go Reliability
Samsung has also improved the UTG (ultra-thin glass) on the now larger displays of the Galaxy Z Fold4, making them 20% more durable than the ones used on the Fold3. 
To further supplement its durability, the Galaxy Z Fold4 also features the new Corning Gorilla Glass Victus+, also present on Samsung's Galaxy S22 series.
The display protection, currently exclusive to Samsung devices, offers better scratch resistance than its regular counterpart.
Samsung's Armor Aluminum frame supports the Galaxy Z Fold4's Corning Gorilla Glass Victus+ screen, which improves the drop resistance of the new foldable smartphone by 12%.
Like its predecessor, the Galaxy Z Fold4 features IPX8 certification, maintaining its position as the only waterproof foldable in the market.
Maximum Productivity with Simplified Multi-Tasking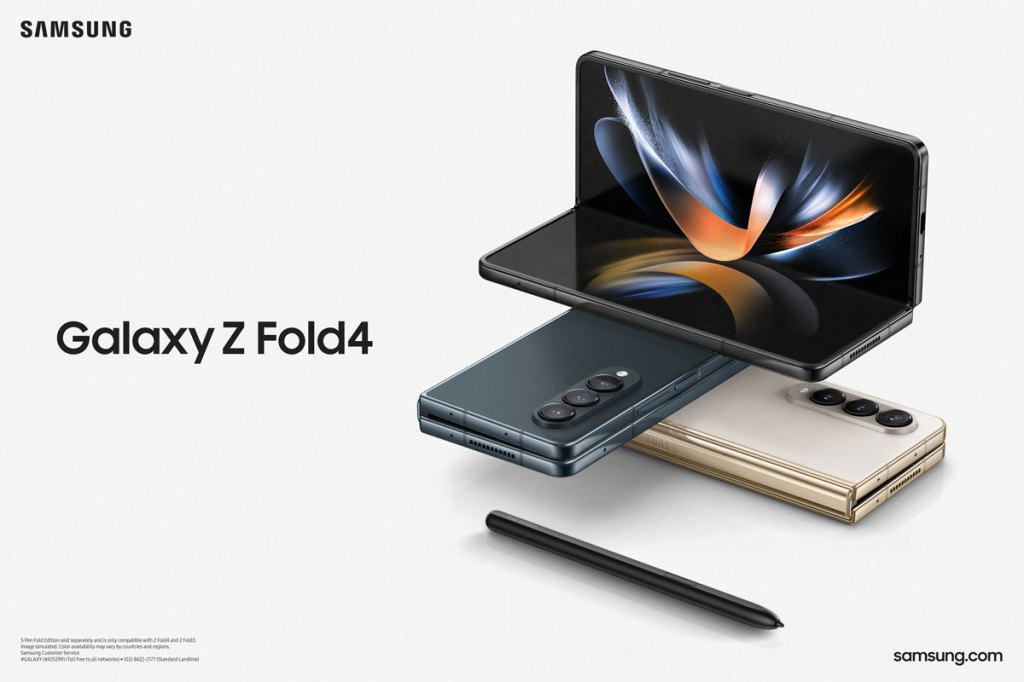 The large, folding display of the Galaxy Z Fold4 gives users several ways to maximize their productivity.
You can launch multiple app windows from the device's taskbar by dragging and dropping their icon onto the screen or even launch two windows of the same app for improved side-by-side viewing.
Also, pair your most frequently used app combination and launch them simultaneously with the Galaxy Z Fold4's App Pair feature.
Maximized Cameras for Night and Zoom
Samsung has improved the cameras on the Galaxy Z Fold4 for better night and zoom photography.
The new foldable smartphone is now equipped with a brighter wide-angle lens, going from 12-megapixels on the Fold3 to a whopping 50-megapixels, and a 12-megapixel ultra-wide lens.
The Galaxy Z Fold4's camera system also comes with a 10-megapixel zoom lens with 3x optical and 30x Space Zoom.
Taking zoom photos with the Galaxy Z Fold4 is also easier with its Capture View, which displays both the zoomed and wide image on its screen. The Dual Preview also makes taking selfies with the device's rear camera easier.
The Galaxy Z Fold4 has a 4-megapixel under-display camera and a 10-megapixel front-facing camera.
Maximized Specs for Trailblazing Performance
Powering the Galaxy Z Fold4 is the fast Qualcomm 4nm Snapdragon 8 Gen+ 1 processor also found on the Galaxy S22 Ultra.
The CPU is coupled with a whopping 12GB of RAM, which will help the Galaxy Z Fold4 achieve maximum performance.
There's also up to 512GB of internal storage and a 4,400mAh battery in the Galaxy Z Fold4.
Maximized Connectivity with Smart 5G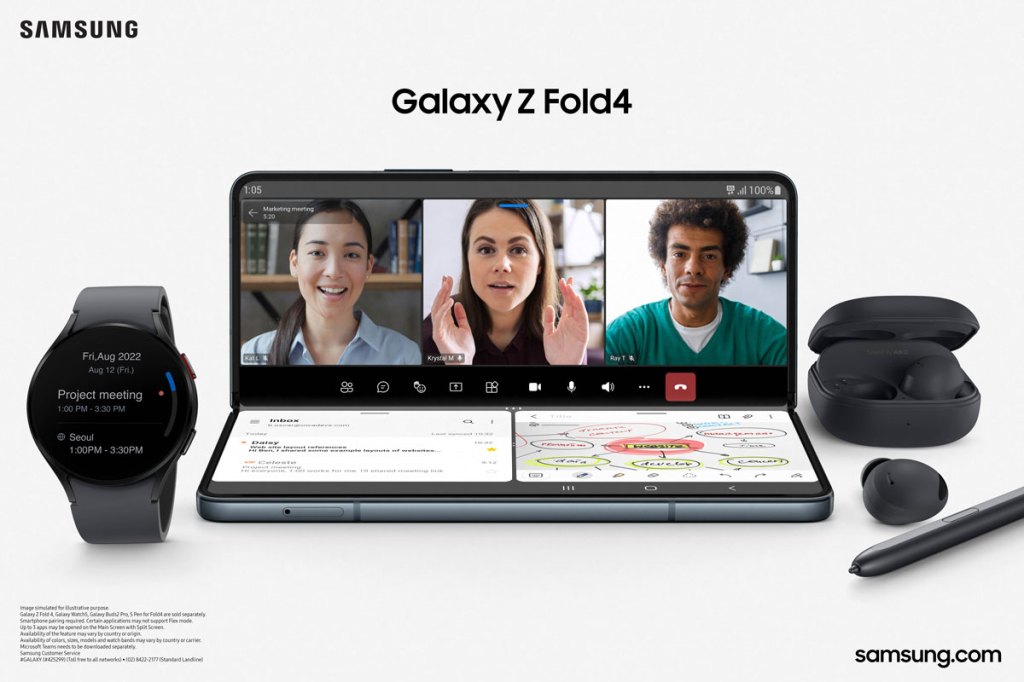 Finally, you can maximize the Galaxy Z Fold4's connectivity with Smart's fastest 5G network.
The Galaxy Z Fold4 will soon be available in the Philippines through Smart's Signature Device Plan 1999 and their other Smart Signature plan offers.
You can pre-order yours now through Smart's Samsung Galaxy Z Series website.
Those who pre-order the Galaxy Z Fold4 through Smart can avail of several promos, including discounts, freebies, vouchers, and more.
The Galaxy Z Fold4 will be available at a discounted introductory price for eligible Smart Signature plan subscribers until September 1, 2022.
Those who pre-order will also get a one-year Samsung Care+ Screen Protect subscription and a discount voucher for Samsung wearable devices such as the Galaxy Buds2 Pro and Galaxy Watch5.
There's also a free Samsung battery pack (worth PHP 2,499) for those who claim their purchased Galaxy Z Fold4 from September 2 to 10, 2022.
If you order from September 2 to 30, 2022, you'll also receive a Z Fold4 Standing Case with S Pen (worth PHP 4,899).
Lastly, those who pre-registered for Samsung's hand raiser program and successfully pre-order a Galaxy Z Fold4 will get an e-voucher worth PHP 3,000 that they can use on select products on the Samsung Online Store.