One of the silver linings of the COVID-19 pandemic was the emergence of small online businesses that catered to the needs of consumers hunkered down in their homes. But now that shops, restaurants, and malls have reopened to the public, can these businesses sustain their momentum and continue thriving post pandemic?
Experts say yes. The pandemic has opened consumers' eyes to the benefits of online shopping, and for many, there's no turning back. According to a report, the Philippines saw an additional 12 million digital consumers since the beginning of the pandemic, and of these, 99% say they will continue using e-commerce platforms moving forward.
But with intense competition from brick and mortar establishments as well as other e-commerce establishments today, it's important for business owners to be updated with the latest trends in digital marketing. This includes knowing the latest developments in social media so they can re-evaluate their marketing strategies and put their money where they can expect the best returns.
What is the best platform to advertise your business?
Social media continues to evolve as its role and influence in society become more evident. If you have used a particular platform or platforms to advertise your business during the pandemic, the changing e-commerce and social media landscapes demand that you re-evaluate your strategies and explore all your options at this point.
Get acquainted (or re-acquainted) with the top social media platforms in the Philippines today and determine where best to advertise your business in the post-pandemic era.
Facebook
With over 80 million active users in the Philippines as of early 2023, Facebook remains the dominant social media platform in the country. Facebook users range in age from 16 to 64, but with the platform's robust advertising features, you can narrow down your audience based on demographics, interests, behaviors, and location. This level of targeting helps you reach the specific audience that is most likely to be interested in your products or services.
Additionally, Facebook's ad platform provides detailed analytics and insights, allowing you to monitor the performance of your campaigns and make adjustments as needed. You also get the flexibility of setting your budget so you can spend as much or as little as you want.
Facebook Marketplace
Facebook Marketplace has gained significant popularity in the country, with numerous users actively engaged in buying and selling on the platform. And with Facebook's massive user base, you can potentially expose your business to a significant number of potential customers. The platform also allows you to target specific geographic areas, ensuring that your ads reach people in your desired location.
Facebook users in the Philippines often use FB Marketplace to actively buy and sell various items. This means that people using the platform are already in a shopping mindset, making conversion more likely. The platform also has an easy listing process. You can quickly create a listing with relevant details, images, and pricing, so potential customers can easily find your products or services.
TikTok
Launched only in 2016, TikTok has rapidly gained popularity in the Philippines, especially among the younger demographic. In 2022, it was estimated that the platform had over 43 million users aged 18 and above—but its actual user base includes even younger subscribers. A significant number of TikTok users are between 16 and 24 years old, so if your business caters to a younger demographic, TikTok can be an effective platform to reach your target audience.
TikTok offers various ad formats such as in-feed ads, branded effects, branded hashtags, and more. These formats allow you to showcase your products or services creatively. As a short form video platform, TikTok has vast amounts of content being created and shared daily. While this can provide opportunities for exposure, it also means that standing out and capturing attention can be challenging. On the plus side, the platform's algorithm-driven "For You" page allows you to reach a broad audience organically.
TikTok provides advertising analytics and insights to track the performance of your campaigns. This data can help you evaluate the effectiveness of your advertising efforts and make informed decisions on how to optimize the returns on your ad spending.
TikTok Shop
The latest major online marketplace to hit cyberspace, TikTok Shop takes the brand's unique appeal to offer a novel shopping experience. The platform provides users with three ways to shop: via LIVE events, in-feed videos with links to the products being promoted, and through the seller's account. All three methods allow customers to complete the purchase within the app.
As a freshly introduced marketplace, there's insufficient data about the reach of TikTok Shop, but as a platform that's heavy on trendy, youthful content, it is deemed most effective in targeting a younger demographic. The app also lets you take advantage of the popularity of TikTok, which experts predict will continue to grow exponentially in the coming years.
Instagram
There are approximately 18.65 million Instagram users in the Philippines as of early 2022. Of these, more than half are between the ages of 18 and 34, with around 43% falling in the 18 to 24 age bracket. With such a significant user base, the platform gives you the potential to reach a large audience, particularly among younger millennials and Gen Z users.
As a highly visual platform, Instagram allows you to showcase your products or services in an engaging and visually appealing manner. It also offers various targeting options, such as location, demographics, interests, and behaviors. You can tailor your ads to reach your desired audience and ensure your message reaches the right people. Features like Stories and Reels provide opportunities to tell your brand story in a more personal and authentic way.
The platform also offers various business tools, such as Instagram Shopping and Insights, which can help you promote and track the performance of your ads. These tools enable you to drive conversions and measure the effectiveness of your advertising efforts.
Twitter
As of early 2023, Twitter reported that it had around 11.8 million users in the Philippines. While not as highly followed as other social media platforms, Twitter can still be a good avenue to promote your business. It is a popular platform for news consumption in the Philippines so if your business is related to news, current events, or trending topics, Twitter can be an effective way to share updates and drive traffic to your website or other platforms.
Twitter also provides an opportunity for direct and immediate interaction with your customers. You can respond to inquiries, address concerns, and engage in conversations to build relationships with your audience. This can help create a positive brand image and foster customer loyalty.
Hashtags and trending topics play a significant role on Twitter. By using relevant hashtags, you can increase the visibility of your tweets and join conversations related to your industry or products.
Twitter also offers advertising options, including promoted tweets and accounts, which can help you reach your targeted audience. You can target your ads based on demographics, interests, and keywords to get your message across to the right audience.
Stay connected through social media the Smart way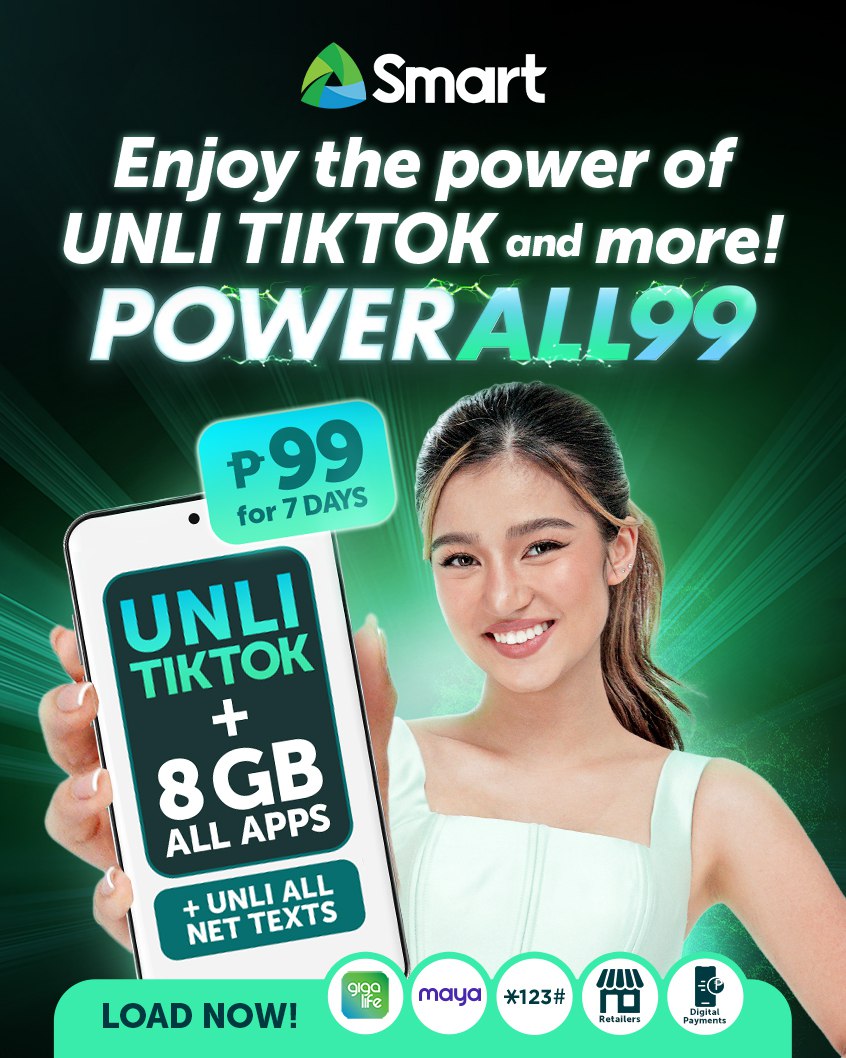 Marketing your business on social media means staying connected at all times, from posting your ad to monitoring the performance of your campaign. At the same time, you need to respond to customer queries and interact with them on a personal level. 
Take advantage of Smart's PowerAll offer for prepaid subscribers. For as little as P50 to P149, you get from 5GB to 12 GB data which you can use to access all sites and apps and power your online marketing activities. PowerAll99 and PowerAll149 both come with UnliTikTok so whether you're doing research on what your competitors are doing or sharing your own content, you can use the app for hours.
The social media landscape is dynamic, and the popularity and effectiveness of platforms can change over time. Stay on top of the game and make informed decisions as you go. The first step is to ensure excellent connectivity through Smart's reliable network.