By: Kriel Ibarrola
Feature photo credit: FIBA Basketball World Cup 2023 Asian Qualifiers/official website
The Philippines staged a successful hosting of the latest window of the FIBA Basketball World Cup 2023 Asian Qualifiers inside Smart Araneta Coliseum from February 24 to 28, 2022.
The competition did have mixed results for Gilas Pilipinas, as they had contrasting fortunes in their two scheduled games. The Filipinos started on the right foot, thrashing India, 88-64. But they were on the other end of the beating in their following game, as they got outclassed by New Zealand, 88-63.
The Philippines did have an official record of 3-1 in this window, granted they had two victories by default after South Korea begged off from the contest due to COVID-19 concerns.
While those two games offered a small sample size of this new team's capabilities, they did show glimpses of reasons to celebrate and lessons to be learned.
Let's have a look at some of the biggest takeaways from Gilas Pilipinas' performance in the recent window of the FIBA Basketball World Cup 2023 Asian Qualifiers.
Youth movement is still the right direction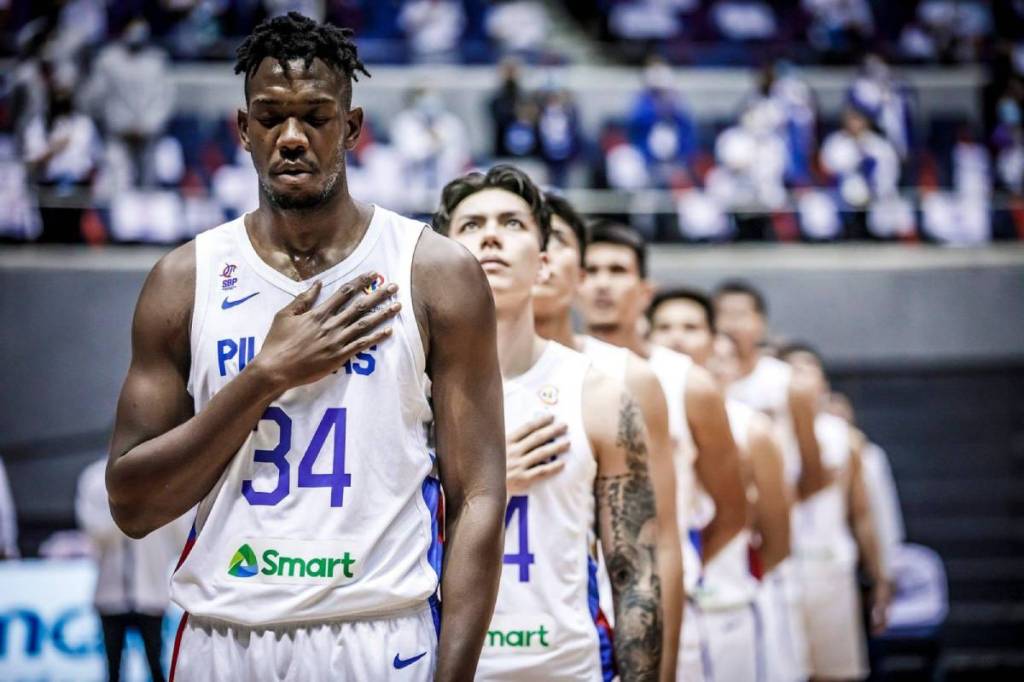 Gilas' initial plan was to create a national team pool filled with young and promising players to be the country's flagbearers in international competitions moving forward. However, Tab Baldwin's sudden exit as head coach of Gilas threw a wrench in these plans. Coach Chot Reyes took over and he brought along guys that are already familiar with his system, particularly his TNT Tropang Giga players.
While the savvy veterans brought a lot to the table, it was clear that we're better off sticking with our young guns.
Fresh from their Japan B.League stints, Thirdy Ravena and Dwight Ramos shined the brightest for Gilas in the four-day competition. The pair of springy guards showcased maturity beyond their years and proved that their games are well-suited for the international scene.
In two games, Ravena dazzled with 19.0 points, 3.0 rebounds, 3.5 assists, and 3.0 steals. Ramos, on the other hand, was a calming force, tallying 17.5 points, 7.0 rebounds, 2.5 assists, and 2.0 steals.
Coach Reyes' patented dribble-drive offense should have been a foreign concept to these two, but it certainly didn't look like it with the way they played in this window. Gilas still has a ton of young, promising prospects hungry to prove themselves on the international scene.
We still have our young bigs like Kai Sotto, Justine Baltazar, Carl Tamayo, and even AJ Edu.
As evidenced by Ramos and Ravena's eye-opening performances, embracing the youth movement is still the way to go.
Preparation is still the name of the game
That beating we took from the Tall Blacks was indeed a tough pill to swallow and should serve as a wake-up call for Gilas. There's no shame in losing to a highly ranked squad like New Zealand, but the fact that the contest wasn't even competitive certainly stings.
Maybe the result wouldn't have been as lopsided if Gilas had more time to prepare for the qualifiers. Sure, we're already qualified for the FIBA Basketball World Cup next year, but the team still needs to establish some pride by doing well in these qualifiers.
For instance, the Baldwin-mentored teams often staged a bubble set-up, months in advance to prepare for a tournament. The results speak for themselves. This iteration of Gilas, however, only had weeks to gel after coach Chot took over. It was obvious that the team needed chemistry since the holdovers from the last pool joined forces with the TNT core.
This lack of preparation might work against lesser teams like India, but it's clear it won't cut it on the world stage. With the way Gilas played, even the supposed 10-man line-up of South Korea would have given them trouble.
The next window of the qualifiers will take place in June. Hopefully, Gilas would have made the necessary adjustments by then.
More questions than answers for Gilas
The aftershock of Baldwin's sudden departure still lingers, especially after this window. Although the blueprint and foundation of Gilas' system have already been laid out, most pundits can't help but feel like the national team is starting over again.
There's a cloud of uncertainty surrounding the team right now. For starters, is coach Reyes' dribble-drive offense still the way to go? The Tab Baldwin cheers did reverberate inside the Big Dome after Gilas' loss to New Zealand.
Then, there's the issue of player availability. Will we see the likes of Kai Sotto and perhaps even Jordan Heading back? Is there still a chance for Jordan Clarkson to be hailed as a local by FIBA rules?
All roads for Gilas still lead to the FIBA Basketball World Cup next year. Hopefully, we'll finally have all the answers by then.
Rewatch Gilas Pilipinas' performance in the 2023 FIBA Basketball World Cup 2023 Asian qualifiers for FREE on your smart phone. Simply download the GigaPlay app on the App Store or Google Play Store, and log in with your Smart number.