While the current meta in Pokemon Unite has been constantly shifting due to the introduction of game-changing characters like Trevenant, Dragonite, and Tsareena, knowing the different battle arenas that you're playing in can definitely improve your chances of scoring your way to victory.
Each battle arena has a different twist and, needless to say, it requires different strategies in this increasingly popular MOBA. Whether you're a neophyte player or have already climbed your way to Master rank, knowing the battlefield like the back of your hand will most certainly help you come out victorious. Let's take a look at all the maps that we have in Pokemon Unite right now.
The Basics of Pokemon Unite Battle Maps
Before we get into specifics, it's important for us to know the standard elements that are present in each battle arena.
Base: Your entire team starts out here at the beginning of the game and this is also where you respawn in case you get knocked out in battle.
Goal Zones: Make sure to dunk Aeos energy into your enemy's goal zones, while making sure that yours is guarded from opposing Pokémon.
Wild Pokemon: Defeating them will give you Aeos energy. Some provide buffs like inflicting more damage on enemy Pokémon with low HP.
Berries: Berries are scattered around the map and can either restore some of your HP or increase your movement speed.
Grass: Hiding behind tall grass makes you invisible to enemies, giving you the perfect opportunity to carry out an ambush attack, but make sure the same thing doesn't happen to you!
Remoat Stadium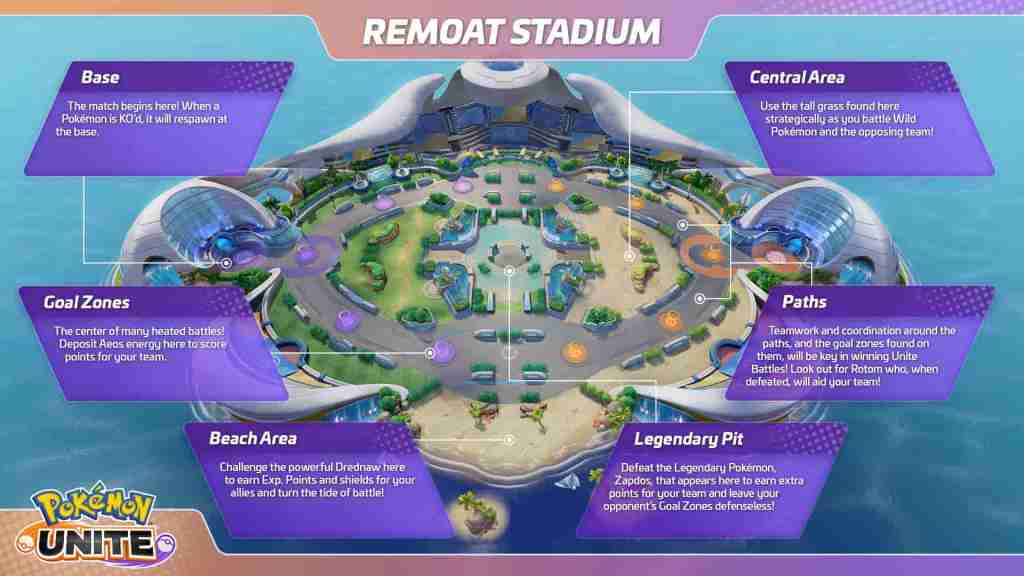 Image credit: The Pokémon Company
Remoat is the most popular map in Pokémon Unite right now. It's also the largest (not to mention most complicated) battle arena in the game. Since this is the standard battle map that you'll be playing in during Ranked matches, take your time to become familiar with its sprawling lanes, wild Pokémon respawns, and various chokepoints.
Match Size: 5 vs. 5
Match Type: Standard, Ranked
Goal Zones: 5 per team
Mid-game Team Objectives: Rotom and Drednaw
Legendary Wild Pokemon: Zapdos
Tips & Tricks to Dominate this Arena
Your team will split up into its three main areas: the top lane, bottom lane, and the highly sought-after jungle.
Leveling up during the early game is crucial if you want to get those ganks. Familiarize yourself with the specific timestamps when wild Pokémon respawn to steal them from your enemy.
Not all wild Pokémon are created equally in Unite. Some Pokemon in the jungle actually give you buffs.

Ludicolo gives you the purple buff that allows you to inflict more damage to enemy Pokémon that are low in HP.
Defeating Bouffalant, on the other hand, gives you the orange buff which slows down enemy Pokémon that you hit with a normal attack.

Launch pads are available only after the 5-minute mark and can take you to where the action is in an instant. You can also use this to interrupt enemies who are trying to score in your inner goal zones.
All the action converges at the center as teams fight over Zapdos during the final stretch when you can score double points. Defeating Zapdos makes your enemies' remaining goal zones defenseless thus making it possible to turn the game around on its head and make way for a comeback.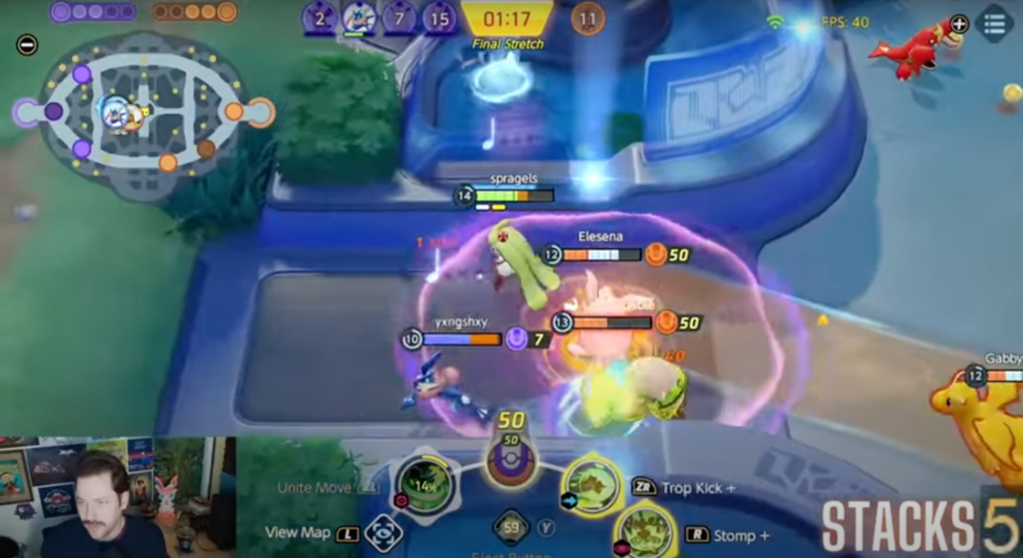 Watch out as the enemy team might try to trap you in this part of the map to keep you away from Zapdos during the final stretch.
Image credit: spragels Youtube Channel
Auroma Park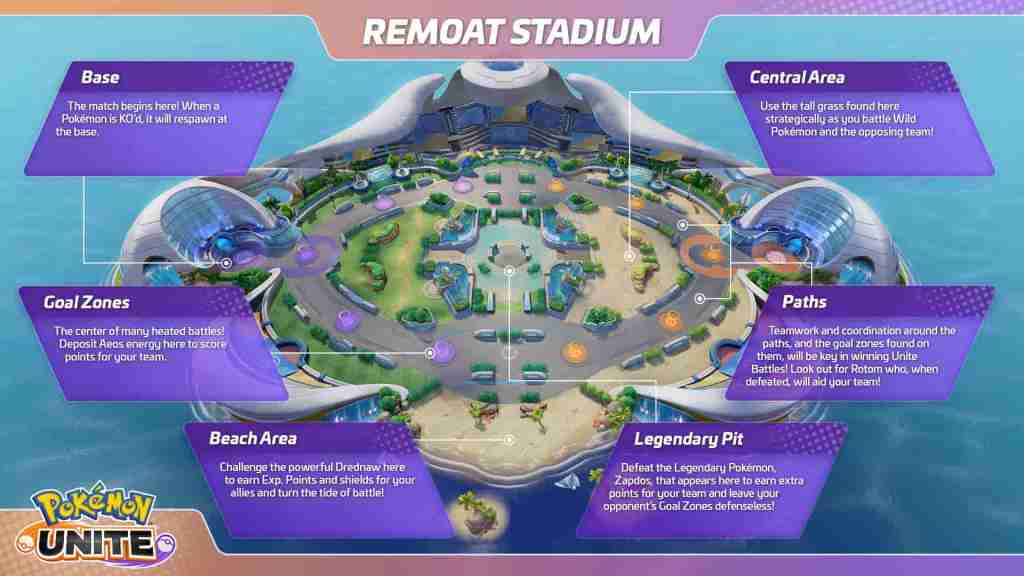 Image credit: The Pokémon Company
If you're itching to play but only have a few minutes to spare, a Quick Battle will give you your much-needed Unite fix. Auroma Park is the largest among three Quick Battle maps and will keep you on the move with its conveyor belt-laden fields. Having fewer players (only three per team to be exact) and much less time per round doesn't mean there's going to be less action in this fragrant yet frenetic battle field.
Match Size: 3 vs. 3
Match Type: Quick Match
Goal Zones: 2 total (players can score in both goals)
Legendary Wild Pokemon: Regigigas
Tips & Tricks to Dominate this Arena
Given the size of the map, the conveyor belts can considerably help you move around the map much more quickly. Touching the conveyor belt even for just a moment increases your movement speed. The mini map shows the direction where the conveyor belts are headed towards so make sure to get a glimpse before hopping onto one of these dash panels.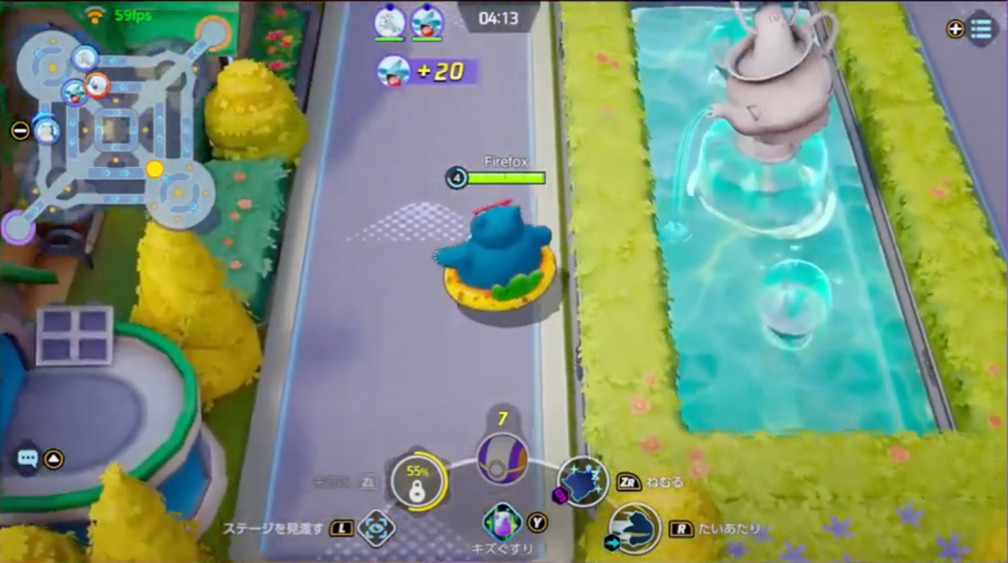 Image credit: Firefox Youtube channel
Use the conveyor belts to your advantage by either chasing down an enemy or running away from the entire enemy team!
Watch out for Abra for double Aeos points. Abra only appears on conveyor belts and flees after a while once you start attacking it, just like in the main series of Pokémon games. Challenging as it may be to take down this elusive Pokémon, it's worth defeating given the higher amount of Exp and Aeos points that you can get from it.
Neither of the two goal zones are specifically assigned to both teams, so don't be surprised if you see the entire enemy team making their way towards you.
Team coordination is just as important in this arena. Score double points after teammate scores in the same goal, but make it quick as this only lasts for a few seconds.
Regigigas is the legendary to beat in Auroma Park that will give you a whopping 40 points. If you're able to defeat it, don't drop your Aeos energy into a goal zone right away. Wait for another teammate to score first so you can double the number of points.
Shivre City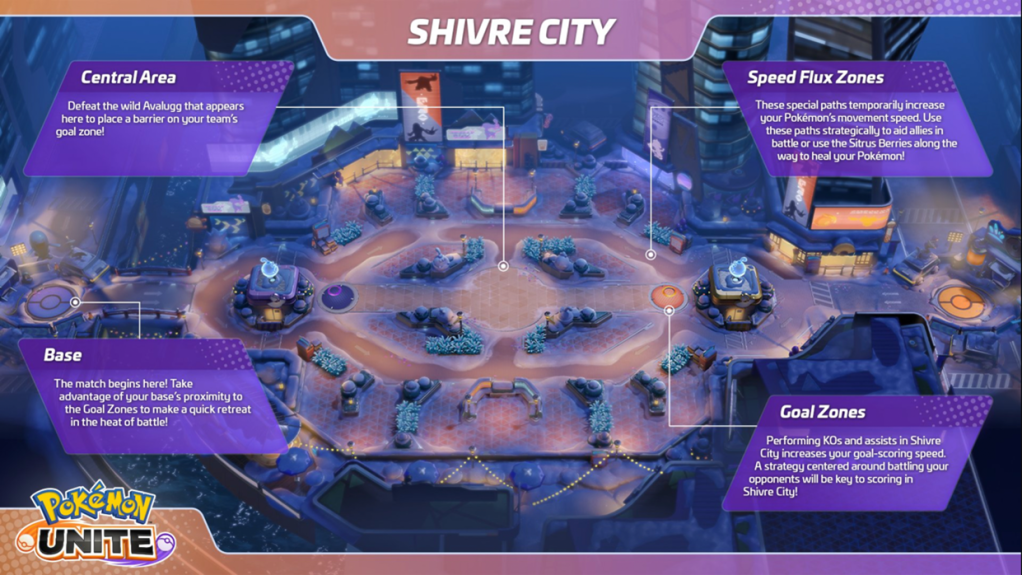 Image credit: The Pokémon Company
Set at night with lanterns and street lights illuminating the map, Shivre City is a compact playing field inhabited by nocturnal Pokémon. What's interesting here is that knocking out enemy players increases your scoring speed, making it wiser to ignore wild Pokémon and head straight to the opposing team!
Match Size: 4 vs. 4
Match Type: Quick Match
Goal Zones: One per team
Legendary Wild Pokemon: Avalugg
Tips & Tricks to Dominate this Arena
Unlike those in standard battle maps, goal zones in Shivre City have no limit so score as much as you can while avoiding getting knocked out by your enemies.
Similar to Remoat Stadium, you can earn double points during the final stretch at the l-minute mark.
Avalugg (or Articuno during the Holiday season) is Shivre City's Boss Pokémon which protects your team's goal zone with a barrier and gives all members an ice shield. Avalugg respawns after 30 seconds and can be defeated multiple times.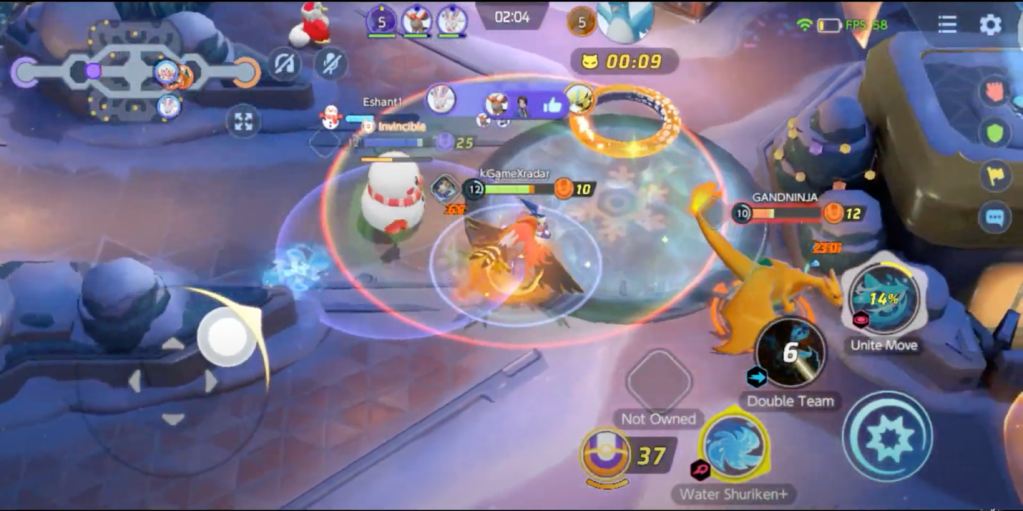 Image credit: GameXradar Youtube channel
Make sure to run to your enemy's goal zones as soon as you defeat Shivre City's boss Pokémon and cash in those Aeos points!
Mer Stadium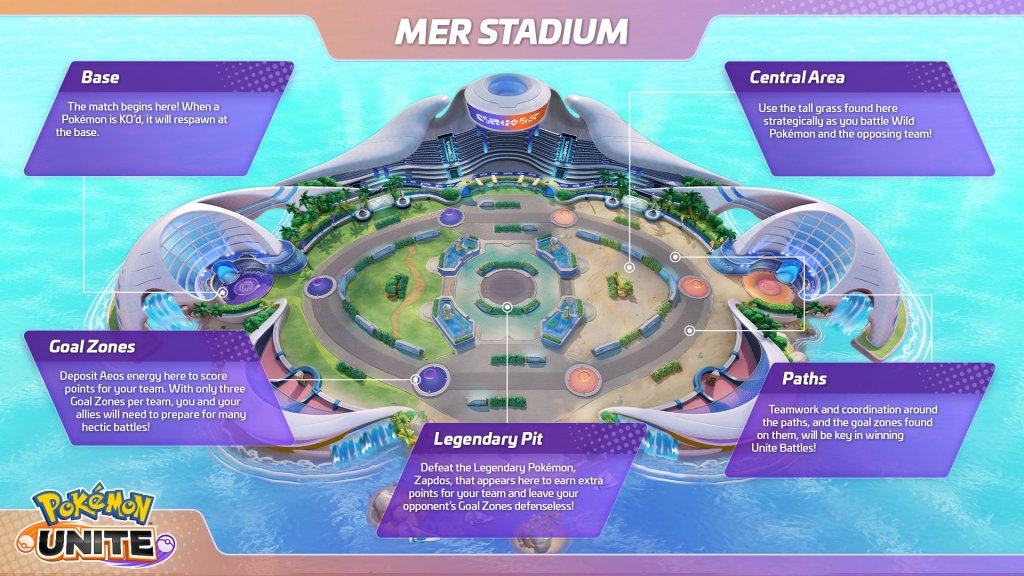 Image credit: The Pokémon Company
If Remoat Stadium were to be hit by a shrink ray, chances are you'll get Mer Stadium. Sharing the same blueprint as that of the standard battle map, Mer Stadium feels familiar without the many twists and turns of its larger counterpart allowing you to dive right in to rack up those points.
Match Size: 4 vs. 4
Match Type: Quick Match
Goal Zones: 3 per team
Legendary Wild Pokemon: Zapdos (?) — spawns at 4:00. Respawns every 30 seconds. Gives the team 20 points and leaves enemy goal zones defenseless for a short time.
Tips & Tricks to Dominate this Arena
You'll see the same wild Pokémon around the map as well as those that offer buffs such as Bouffalant and Ludicolo. Drednaw and Rotom don't make an appearance on this map, however.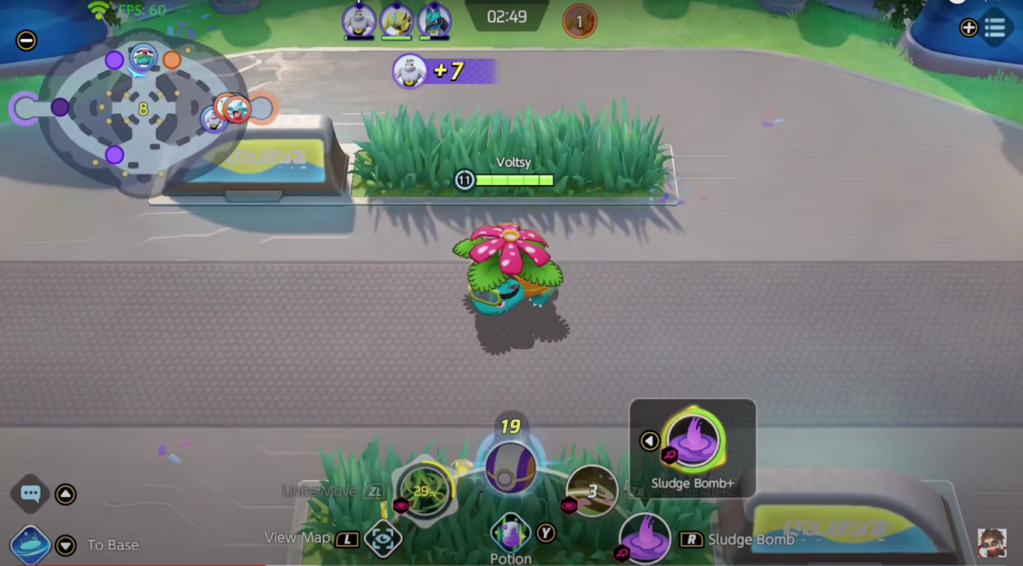 Image credit: HeroVoltsy Youtube channel
The pit where Rotom spawns and the beach area were Drednaw appears are non-existent in Mer Stadium. Make the most of this much more compact layout by farming and scoring as many points as you can!
Launch pads are also available so make sure to use them to your advantage.
Zapdos spawns at 4:00 and respawns every 30 seconds. Just like in Remoat Stadium, defeating this electric legendary Pokémon gives the team 20 points and leaves enemy goal zones defenseless for a short time.
Put all these tactical know-how into practice by logging onto Pokémon Unite. Avail our exciting data promos by downloading the GigaLife app or at https://smart.com.ph/prepaid/promos. See you on the battlefield!
Catch high tension matches in the Pokémon Unite AKB48 Group Invitational. Catch this and more of the Pokémon Battle Festival Asia on the GigaPlay App at https://smrt.ph/gigaplay.